Pioneering the New Fly-fishing Frontier.
Fly fishing Flies and Techniques for the Canadian Trophy Grand Slam.
Until recently, Northern Canada did not sit on most fly-fishermen's radar screens for exotic trips. In the last 10 years, much of that has changed. Many fly-fishemen are now in tune to the tremendous experience of fly-fishing for pike and more and more are discovering the excitment of Canada's other species. As an experience, no other fishery offers more variety and quality than the North Seal River System. Here anglers can fly-fish for five different species in a wealth of differing habitat and situations. From crystal clear bays rivaling the finest salt water flats to rushing rivers resembling magnificent blue-ribbon trout water, the North Seal is a fly-fisherman's paradise.
Even before most thought about fly-fishing for pike, lake trout and walleye in Canada, Ganglers has focused on developing this field, with a special understanding of the sport through owner Ken Gangler's passion for fly-fishing and the passion of frequenting fly-fishing legends. Let us show you the wealth of fly-fishing experiences the North Seal has to offer.
We Practice Catch & Release
It's provincial law to use barbless hooks which also helps do less harm to the fish before releasing them. This will ensure a healthy population at the North Seal River Lodge and our lakes. Don't forget to clip those barbs or bend them down.
Fishing Factors
Weather –
Mother nature will throw a curve ball at you up here constantly. Although there are average temps during the fishing season, one day it might be 90 ° and the next day it could be stormy and a nor easter could blow through dropping temps to 50 °. You have to know how to fish in many different situations.
Structure –
Fish up here are more plentiful in certain areas and structures at different times of the fishing season. Every Lake has its own unique structure and the fish move in and out of areas depending on what is going on with all factors. Our guides know where the fish are typically and are constantly finding new areas that produce. If the shallow weeds are producing quality fish that week, our guides will know where to bring you. If deep weeds or drop-offs are producing you'll fish different techniques that week.
Species –
Every species has feeding habits and we can give you a good idea of how and when they strike. We fish all of the lakes and all of the species and know how to entice them.
Fishy Senses –
When you factor in time of year, water temps, weather, structure and species then you can get a pretty good idea where the fish are moving. Sound complicated? Not really. If you get an overall picture in your head of conditions you can make an educated guess if you are unguided. But testing the waters with the right lure will give you an instant reading of your theory.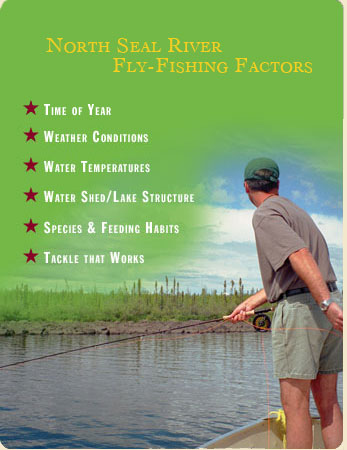 Techniques Overview
Whether you are a seasoned fisherman or frequent guest of Gangler's, consider this page a general guide to use in preparing for your trip. We want our guests to have the trip of a lifetime and will do whatever it takes to ensure that. We will cover many tips and techniques here that generally produces big fish or good quantities of fish. With all the conditions that exist at the North Seal River System, you may discover flies and techniques that work better than what we'll discuss here. The hottest fly changes from year to year and a bit of exploring will get you an idea if something untraditional will catch you a trophy. The fish are enticed by something with a different movement, color or shape.
Weather Conditions
Weather plays a big part on how pike respond to different lures. Many external factors still exist but this is a list of general rules that apply in specific conditions and are usually more effective:
Sunny days –
• Flashy bright flies-yellows, pinks, chartreuse
• blacks in shallow areas- bunny leaches and black patterns with color
Late sun (afternoon) –
• Fluorescent colors with some black
• Red, white and black combos and flash
Cloudy days –
• Red, white and black combos and flash
• Darker colors (Black, brown, blue, green)
(keep in mind that cloudy to rainy days are typically good walleye days)
Rainy days to scattered rain –
• Top of water flies/poppers (fish can be frisky in the weeds for top water)
• Heavy flies that drop (Rain can knock the fish down deeper)
Windy days (You'll be fishing less rough waters, behind islands, bays, rivers, etc.)
Dusk/Night –
• bright colored – white or yellow flies
• Top of water
Of course the out of the ordinary fly also produces big fish which you should also bring because the fish are unfamiliar with them. Guests have caught fish on every kind of pattern or color.
FLY-FISHING TACKLE
Northern pike/lake trout
Fly-rods –
A 9' 8 or 9 weight rod with a decent reel and at least 100 yds of backing. For line, one spool of weight-forward floating line and one spool of monocore or another intermediate sinking line. Teeny 300 is a good one. Leaders are 5'-7' of 12 lb. line or heavier and 12" of wire on your tippet is mandatory.
Flies –
Anything 4"-8" long and hook size 1/0-3/0. Deceivers, Whistlers, Sar-dul-mac, any nice tarpon streamer but bigger. Crystal hair or flashabou is a must. Bunny bugs (black leech patterns) are durable and HOT. Slightly weighted for later in the season. Late season and deeper fly pattern that produces: white, red, black combo with flash works like a charm. Poppers and gurglers work great. We have a complimentary fly-tying bench at the main lodge.
Walleye
Fly-rods –
A 5 to 7 weight rod with a sinking line and an 8 lb. tippet.
Flies –
2"-4" Clouser Minnows and Leech patterns.
Grayling and Whitefish
Fly-rods –
A 3-6 weight 7'-9' rod and reel with a weight-forward floating line.
Flies –
Dries such as Irresistibles, Adams, Elk Hair Caddis, and any trout nymphs or wooly buggers. Wet flies good for really big fish when the hatches turn off. Hook sizes 12-16. Lots of floatant and dressing.
FLY-FISHING TECHNIQUES
Pike –
Few things in fly-fishing are as visually exciting as big pike hitting a fly. Because our water is so clear, fly-fishing for pike is almost like hunting, except there are a lot more than just one fish. It's common to go into a bay and see 25 to 50 to even 100 fish sunning themselves. These fish don't spook and will chase a fly right up to the boat with the motor running. The common approach is to cast and retrieve in short 4-6" strips. It's even more fun to have one that is tentative. You'll cast your fly out, slowly easing it by the fish's mouth. The fish sits dormant as you SLOWLLLLYY work the fly in front of it, using short strips and letting the fly hover, teasing the fish. Your heart will JUMP when that seemingly sluggish fish begins a slow glide to fly, and then suddenly EXPLODES into a frenzied attack! Later in the summer fish will still be in the bays but also in the weed beds. For this approach, you can slowly work streamers through the cabbage beds or work a surface popper in the pockets. There's nothing like a pike's aerial assault on a popper!
The other plus to pike is their absolute lack of fear. A beginner can make the worst cast in the world, wrap the line around his head, have it land 10' from the boat, and have a pike come up and destroy it. Flip Pallot had this comparison, "They're like snook fishing but there is a lot more of them and they have no fear!"
Lake trout –
In the spring, you'll throw large flies off sand and rocky points and in current areas, letting it work down the water column as you retrieve it. A large lake trout hitting a fly is an eye-opening experience and get your arms ready. In the summer sinking lines and weighted flies are the trick. For the fall, casting spawning reefs and current areas will produce a torrent of angry fish!
Walleye –
Concentrated in the channels and rivers, fly-fishing for walleye is really catching on. Cast out a small Clouser Minnow or other fly with minimal weight and slow fish it, with little or no perceptible movement. The feathers do the rest! It's not unheard of to boat a whack of nice walleyes quickly. A past trip with Lefty Kreh, owner Ken Gangler, and two other guests produced over 80 fish in an hour and a half, all on flies and up to 8 lbs. in size. That's fun!
Arctic Grayling –
Our rivers are some of North America's finest, with water rivaling the finest blue-ribbon trout streams in North America! These waters are chock full of graying and to catch 30-100 in a few hours is common. Average size is 14-18" and our biggest was possibly the largest ever caught in the province, at a mammoth 24". These fish are fatter and chunkier than any we have ever seen and a North Seal grayling can bury his nose in the current, difficult to budge or break you off. We fish by either boat or wading, depending on the river's layout. Roll casting is the preferred method, as our rivers usually have brush and willows on the banks. We do have certain areas trimmed out where a fly-fishermen will think he has died and gone to heaven. The hatches are outstanding and run in cycles. Grayling can be hitting red-hot for an hour and then shut down for the next. Wait long enough and it will turn on again (unless there is a big pike or laker in the area)! Sunlight is also preferred for grayling fishing. Preferred fly is a dry although wets will take the bruisers. Always make sure the dry is riding high, the minute it starts to sink it is ineffective.
Whitefish –
We're still figuring them out and you never know where they may turn up. Our waters have huge whitefish and every year we take fish over 20". Took one at 27" a few years ago that just missed the provincial record. Definitely like flies, especially in the rivers. We have several guests fishing for grayling who had a whitefish on and thought they had a world-record grayling!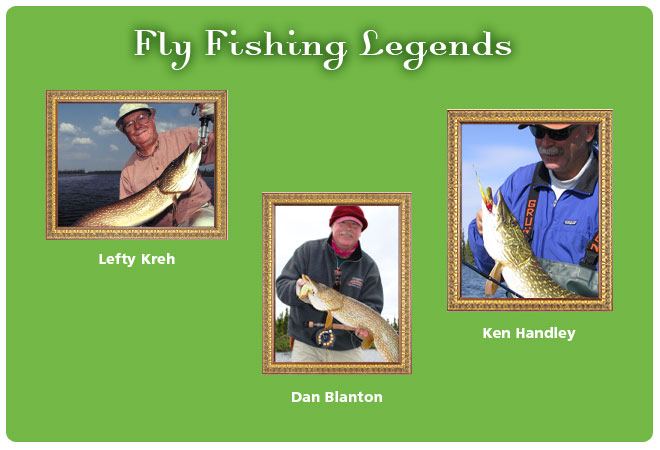 FLY-FISHING LEGENDS WEEK
Years ago, we pioneered a very special week for fly-fishermen at Ganglers. Hosted by some of the greatest names in the business, it is a week of great camaraderie and learning and, of course, phenomenal fishing. The names who have hosted and attended it are a who's who of fly-fishing- Lefty Kreh (8x), Flip Pallot, Dan Blanton, Ken Hanley, Bob Clouser, Nick Curcione, Larry Dahlberg, Del Brown and Rick Pope of Temple Fork Outfitters. It's extremely relaxed –just like hanging around the local fly-shop, exchanging techniques, learning how to tie certain flies, enjoying some casting instruction and an over-all , an experience you will always cherish. The bonus is that banter is with one of the finest fly-fishermen in the world !
Ed Jaworowski was a host of Fly fishing legends week in 2011. He is well-known as one of the finest, if THE finest, fly caster around and has spent his life teaching its nuances. Lefty Kreh called Ed "the best teacher of fly-casting I have ever know." He is also a well-traveled, well-rounded fly fisherman with trips throughout the world. He writes for several magazines, has written several books, and has appeared on the NBC Today show, interviewed by Bryant Gumbel. He has enjoyed fishing for pike in Canada several times over the last few years and did a short expeditionary trip to Ganglers last July in preparing for this year's trip. He's a brilliant and interesting man, a professor of classical studies at Villanova University and an opera singer. Best of all, he is one of the nicest people you will ever meet. It was a very special Fly-fishing Legends week at Ganglers! Here's Ed's comments about Ganglers below –
"Pike were made for fly fishing, and Gangler's North Seal River Lodge was made for serious fly fishermen. If you like sight fishing for large, aggressive fish with a floating line, here's the place. The many lakes offer a variety of pike fishing opportunities, weed beds, lily pads, rocky points, and drop-offs. I've caught pike in 5 provinces, Alaska, and Ireland. Nowhere have I had more exciting fishing or better success than at Gangler's. A "trophy" fish, 41 inches or better, is a real possibility at any moment, and many are caught each week. If you want to spice your sport with variety, many of the lakes also offer the chance to check walleyes and grayling off your "to do" list in short order; even lake trout at certain times of the season. Whether you enjoy stripping streamers through weedbeds, chugging poppers across the lily pads, or floating dry flies along current seams, you'll have no shortage of opportunities to create fishing memories at Gangler's. I'm going back and I hope you will join me."