Best Tackle & Techniques for Grand Slam Success.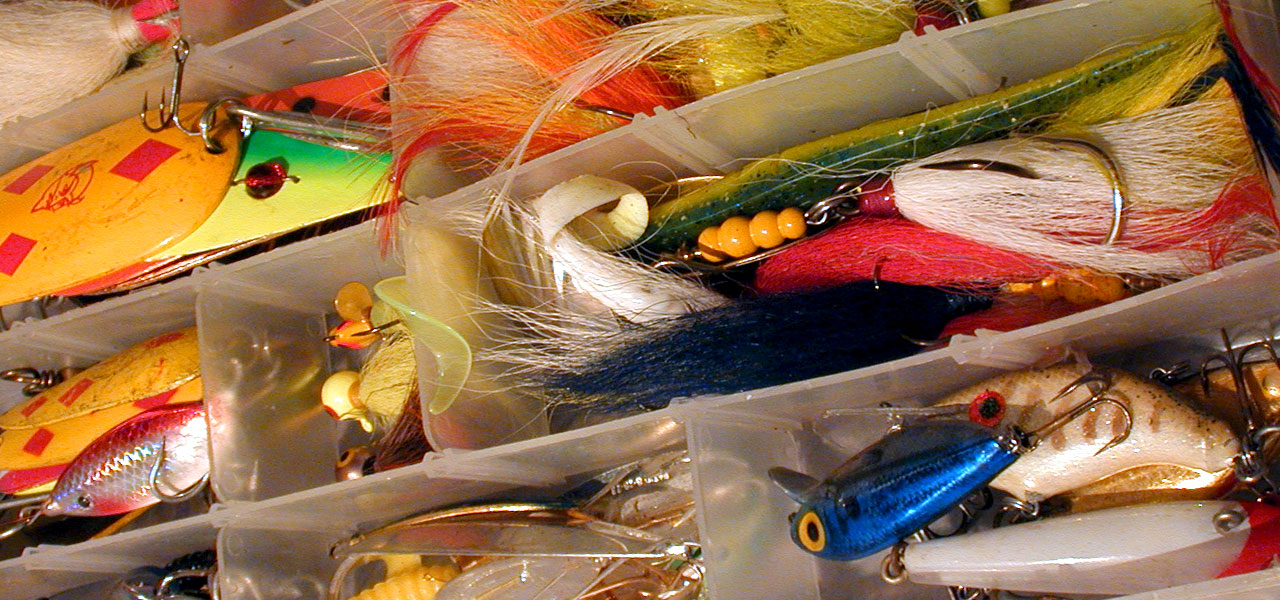 Make the most of your adventure with proven tackle and techniques.
When you venture this far north you're pretty much guaranteed to catch a lot of fish. That aside, there are factors that come into play which can make or break a good fishing experience. Whether you are guided from the lodge or premier outpost or at an outpost unguided, you can bring gear and use techniques that will give you better success landing the monsters.
We Practice Catch & Release
It's provincial law to use barbless hooks which also helps do less harm to the fish before releasing them. This will ensure a healthy population at the North Seal River Lodge and our lakes. Don't forget to clip those barbs or bend them down.
Fishing Factors
Weather –
Mother nature will throw a curve ball at you up here constantly. Although there are average temps during the fishing season, one day it might be 90 ° and the next day it could be stormy and a nor easter could blow through dropping temps to 50 °. You have to know how to fish in many different situations.
Structure –
Fish up here are more plentiful in certain areas and structures at different times of the fishing season. Every Lake has its own unique structure and the fish move in and out of areas depending on what is going on with all factors. Our guides know where the fish are typically and are constantly finding new areas that produce. If the shallow weeds are producing quality fish that week, our guides will know where to bring you. If deep weeds or drop-offs are producing you'll fish different techniques that week.
Species –
Every species has feeding habits and we can give you a good idea of how and when they strike. We fish all of the lakes and all of the species and know how to entice them.
Fishy Senses –
When you factor in time of year, water temps, weather, structure and species then you can get a pretty good idea where the fish are moving. Sound complicated? Not really. If you get an overall picture in your head of conditions you can make an educated guess if you are unguided. But testing the waters with the right lure will give you an instant reading of your theory.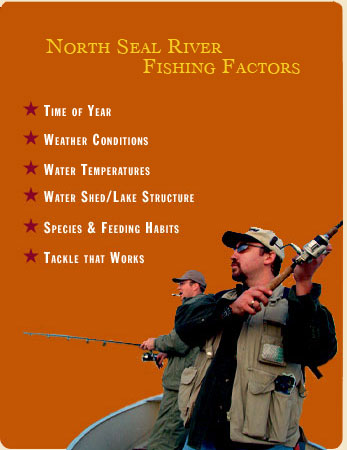 Techniques Overview
Whether you are a seasoned fisherman or frequent guest of Gangler's, consider this page a general guide to use in preparing for your trip. We want our guests to have the trip of a lifetime and will do whatever it takes to ensure that. We will cover many tips and techniques here that generally produces big fish or good quantities of fish. With all the conditions that exist at the North Seal River System, you may discover lures and techniques that work better than what we'll discuss here. The hottest lure changes from year to year and a bit of exploring will get you an idea if something untraditional will catch you a trophy. The fish are enticed by something with a different wiggle, color or shape.
Weather Conditions
Weather plays a big part on how pike respond to different lures. Many external factors still exist but this is a list of general rules that apply in specific conditions and are usually more effective:
Sunny days-
• Flashy metallic spoons and spinners
• Bright colored lures
• blacks in shallow areas
Late sun (afternoon)-
• Fluorescent colors with some black
• Red, white and black combos (mepps with hair)
Cloudy days-
• Flashy metallic spoons and spinners
• Darker colors (Black, brown, blue, green)
(keep in mind that cloudy to rainy days are typically good lake trout days)
Rainy days to scattered rain-
• Top of water lures/poppers
• Deeper diving lures ( Rain can knock the fish down deeper )
• Rattle traps
• Heavy spoons that drop
Windy days (You'll be fishing less rough waters, behind islands, bays, rivers, etc.)-
• Spinners
• Silver minows with white or yellow tails deeper
• Deep lures
Dusk/Night-
• Spinners
• Top of water
Of course the out of the ordinary lure also produces big fish which you should also bring because the fish are unfamiliar with them. Guests have caught fish on a plastic pig with a hook attached. Reallistic rubber fish are great too.
Tackle that Works by Species
PIKE – Pike love spoons, especially in yellow, orange, bright red, and shiny finishes but around the 1 oz. size. Many people mistakenly try MUSKY lures but pike – in most instances – prefer much smaller baits than muskies. 1 oz. #2 Daredevles and Len Thompsons, and the 1 ¼ oz. Johnson Silver Minnows are the faves. #5 Mepps with shiny blades are another staple. When using plastic, medium Bulldawgs will dominate at times. Don't count out big crankbaits and surface lures, such as a Zara Spook. For tentative fish, plastics such as sluggoes and salamanders will get them moving. 14 lb. mono and 12" wire leaders.
Rod of choice – 6'-7' medium-heavy with a longer handle.
LAKE TROUT – Lake trout prefer bigger spoons and bigger crank baits. 2 to 3 ½ oz. Daredevles and Len Thompsons are favorites as also are Red Eyes, Doctor spoons, and Evil Eyes. For deep water, the same spoons and 3 oz. bucktail jigs tipped with plastic bodies are the hands-on favorite. In the summer holes, we'll roll with 3 way rigs or vertical jig. 30 lb. Spiderwire or similar, especially for jigging.
Rod of choice – 6'-7' medium-heavy with a longer handle.
WALLEYE – 3/8 oz. Mister Twisters in yellow, white, and orange can't be beat. Shad Raps and Rattle traps are also big producers. 6-8 lb. mono.
Rod of choice – 6' medium spinning.
ARCTIC GRAYLING/ WHITEFISH – Small spinners (Mepps, Rooster tails, and Panther Martins in 0 or 00 sizes) with shiny blades. Dry flies are the best and most consistent and spin fishermen can use the same with a small bobber. 4 lb. test
Rod of choice – 5'- 5'5" ultra-light.