Stevens/Nicklin Deluxe Outpost Delivers the Ultimate in The Canadian Outpost Experience!
Stevens/Nicklin is the North Seal at its finest. The fishing waters are a combination of 3 lake systems interconnected and offer everything from large bays to moving rapids to deep holes to large weed beds. This system stretches over 21 miles from tip to tip.
Each day is one of choices. Guests can start out minutes from camp, hooking fat, golden walleye, then head over to one of the numerous bays to stalk the large. ferocious northern pike. After lunch, test your arm strength battling the huge lake trout that run up to 50 lbs. here. The day is complete with classic arctic grayling action at the exiting rapids of the Laurilla River. A grand slam all in one day!
The camp setting is worthy of a postcard. Two over-sized cabins beckon over a beautiful sand beach, overlooking Nicklin Lake. For comfort, guests will think they are staying at a main lodge with all the amenities available at this outpost. Each cabin sleeps four, featuring spacious living areas with sofas and loveseats, separate bedrooms with hotel style beds, comforters, linens and dressers, fully modern bathrooms with hot and cold water, along with a complete kitchenette with electric fridge, stove, cookware and utensils. All food is provided. Satellite phone is available at this location.
Stevens is the standard by which all deluxe outposts are measured. For the ultimate in outpost fishing AND comfort…Stevens Nicklin Deluxe Outpost!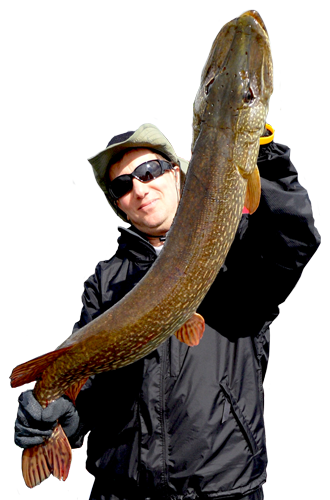 ★★★★★

Stevens/Nicklin Deluxe Outpost • 5-Star, Deluxe Outpost

ON STEVENS LAKE AND NICKLIN LAKE / NORTH SEAL RIVER SYSTEM
N 58˚ 49 17 by W 99˚ 54 20

⇛ 3 Lake System
⇛ 1 Portage to Dean Lake
⇛ 2 Deluxe, Oversized 4-Man Cabins, Modern Bath
⇛ Food included
⇛ Camp includes an On-site camp manager, generator, satelite phone, custom boats and ice machine

NORTHERN PIKE • LAKE TROUT • WALLEYE • GRAYLING
Trophy Species
Whether you are a die-hard northern pike hunter, lake trout fanatic or just like to sample all of the menu, we have a plan for you to take home the memories of a great fishing adventure. Our lakes are teeming with trophy fish in all of these species. While these core four are what guest rave about there is the occasional trophy whitefish or burbot. Let us know what your specific fishing desires are and we will help design a trip to accommodate them.
Adventure with a touch of luxury.
At Stevens/Nicklin Deluxe Outpost you're treated to a fishing adventure in the highest standard of outpost luxury. Here you'll encounter three interconnected lakes featuring large bays, and extensive weed beds teeming with walleye and pike, rapids bursting with arctic grayling and gigantic lake trout lurking in its distinct ninety-foot deep holes. Your comfortable lodging feature spacious living areas, wood burning stove, comfortable couches, two separate bedrooms, modern bath and a complete kitchen. All in a gorgeous setting worthy of a postcard.
2 deluxe oversized 4-man cabins
The accommodations offer 2 separate four-person cabins with cozy bedding, modern bathrooms, and thermostatically controlled heat. There's a modern kitchen which is fully stocked with most things you'll need to whip up most anything you can create. We also supply a grill out back which will delight the backyard warriors that like to flame cook everything. It also is a nice option on hot days for cooking.
3 lake system
Stevens Lake, Nicklin Lake and Dean Lake are a chain of lakes that flow into one another and are part of the whole North Seal River Flowage. One of the important factors in this system is the multitude of structure points that hold large fish. The shorelines of these lakes are dotted with bays and weeds holding pike. These lakes are connected by many short river stretches that act as a funnel for moving walleye and other species. This creates many ambush points for pike as well.
Stevens/Nicklin Deluxe Outpost Detail:
• 5-star outpost w/two large cabins for four people each w/two separate bedrooms
• Cabins w/ 24-hr electricity, fully stocked kitchens, bath, living room w/ couches, beds, & screened-in porches
• BBQ grills, ice machine & coolers
• Camp manager on-site, guiding & cooking available for an extra fee
• Satellite phone on site
• Custom 16 1/2' boats w/seats, 25 hp Yamaha motors & Eagle depth finders, casting deck
• 1 portage lake with boat, motor and gas on-site
• FREE Internet service
• Laundry facilities available
• Taxes and fishing license not included
• Flight from Winnipeg included