Clifton Lake Classic Outpost – A unique fishery, a unique outpost
In the past, Ganglers has been approached by many anglers looking to experience the magic of the North Seal yet in a standard outpost setting. Our deluxe outposts at Bain, Stevens, and Burnie rival and surpass many main lodges, with ice machines, Satellite phones, custom boats , etc. and certainly don't qualify as rustic. Ganglers' guests now have that option with our new rustic outpost camp on a lake that is already legendary with many Ganglers guests, Clifton Lake.
It has a great mix of every type of water and structure imaginable. This lake has been featured on TV with the In-Fishermen, Walkers Cay, North American Fishermen, and Cabelas. It also offers access to Wilke Lake, another large lake. The countryside is gorgeous, almost park-like, with a large sand esker running through the middle of the lake and an abundance of wildlife.
Offering the best of the North Seal, Clifton Lake Outpost is already a legendary camp.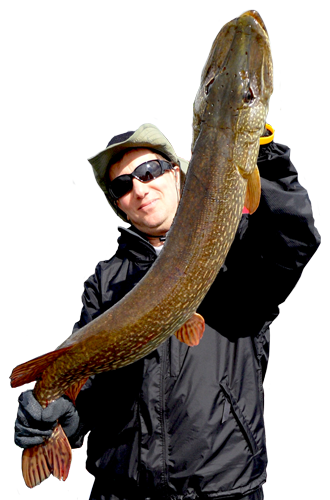 ★★★★

Clifton Lake Classic Outpost • 4-Star, Classic Outpost

ON CLIFTON LAKE / NORTH SEAL RIVER SYSTEM
N 58˚ 58 60 by W 99˚ 58 05

⇛ A Former Flyout from the NSR Lodge
⇛ Cabin sleeps from 4-8 people
⇛ Solar powered, Satellite phone
⇛ Modern Kitchen & Bath, Food included
⇛ Custom Boats
⇛ Manager On-site

NORTHERN PIKE • LAKE TROUT • WALLEYE • GRAYLING
Trophy Species
Whether you are a die-hard northern pike hunter, lake trout fanatic or just like to sample all of the menu, we have a plan for you to take home the memories of a great fishing adventure. Our lakes are teeming with trophy fish in all of these species. While these core four are what guest rave about there is the occasional trophy whitefish or burbot. Let us know what your specific fishing desires are and we will help design a trip to accomodate them.
A rustic outpost for the die-hard, adventure fisherman.
Clifton is a sprawling piece of water located on the Johnson River system, a major waterway into the North Seal. It offers sensational fishing for the Canadian Grand Slam – big pike, lake trout, walleyes, and Arctic grayling. A popular day fly-out from the main lodge, Clifton has produced grayling to 22″, lakers to 42″, walleye averaging 20-26″ with the largest a 32″, and sensational pike with a monster estimated at 55″ lost boatside just a few years ago.
4 to 8-man accommodations, 2 bedroom
The cabin is a comfortable 24′ x 26′, paneled, with two large bedrooms with two sets of bunks each, shower room, and a spacious dining area. Capacity is 4-8 people. There is a fully-equipped kitchen with propane stove and refrigerator and a gravity-feed water system will supply water to the kitchen and modern bathroom Boats are standard 16'and 14′ Lunds with 20 and 15 hp. 4 stroke Yamahas. Communication with the lodge is by satellite telephone. Different food packages are available, staples are included. Guests bring their depth finders and depth finder batteries are supplied.
Clifton Lake Classic Outpost Detail:
• 4-star modern classic outpost cabin for 4-8 people w/two separate bedrooms
• Cabin features kitchen (food included), wood stove, BBQ grill, bunk beds and one bath
• Camp manager on-site, guiding and cooking available for an extra fee
• Sleeping bags provided
• Satellite phone on site
• AC solar system and generator
• 16' and 14' boats with seats and 15 & 20 hp outboards
• 12 volt depth finder batteries provided
• FREE Internet service
• Taxes and fishing license not included
• Trips include transportation from Winnipeg, Manitoba