Burnie Lake Deluxe Outpost; Not your typical Outpost
Anglers get to experience two great bodies of water here… Burnie Lake, known for it's ferocious trophy Pike and Long Lake, an 18 mile-long section of the North Seal River system that features all four species – huge pike, trout, walleye, and arctic grayling – in unbelievable quantities. Ganglers' portage allows easy access to Long Lake. Both lakes are distinctly different and special, offering the best of the North Seal fishery.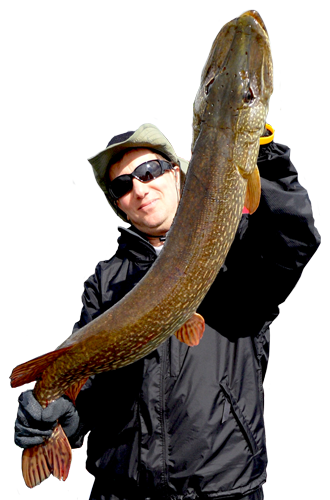 ★★★★★

Burnie Lake Deluxe Outpost • 5-Star, Deluxe Outpost

ON BURNIE LAKE / NORTH SEAL RIVER SYSTEM
N 58˚ 55 34 by W 100˚ 26 43

⇛ 1 Portage – Long Lake
⇛ Classic 4-man accommodations, 2 bedroom (1 private bath per bedroom), Food included
⇛ Camp includes an On-site camp manager, generator, satellite phone, custom boats and ice machine

NORTHERN PIKE • LAKE TROUT • WALLEYE • GRAYLING
Trophy Species
Whether you are a die-hard northern pike hunter, lake trout fanatic or just like to sample all of the menu, we have a plan for you to take home the memories of a great fishing adventure. Our lakes are teeming with trophy fish in all of these species. While these core four are what guest rave about there is the occasional trophy whitefish or burbot. Let us know what your specific fishing desires are and we will help design a trip to accommodate them.
An Extraordinary, Modern Outpost Experience.
For those anglers who want to experience Canada in the purest outpost-type setting, we offer Burnie Lake Outpost.
4-man accommodations, 2 bedroom
This comfortable, modern camp features two 4-guest cabins which feature a small kitchen area with electric fridges and propane stoves. Cabins have two separate bedrooms with hotel style beds and linen, two fully modern bathrooms per each cabin, a generator/ electric, satellite telephone, and a camp manager on-site. Our fleet of 16 foot Alumarine custom-designed boats provide you that extra comfort for long days of fishing on Burnie Lake.
If your idea of fishing heaven is sore arms from battling northern pike all day…and a great camp to relax in later, Burnie is ideal.
1 Portage Lake – Long Lake
All will agree Keewatinkinokumaw is one long name for a lake. The name is Cree and is a reference to the incredible fishery. To ensure no one experiences vocalization distress, we have nicknamed it "Long Lake."
Long Lake is definitely a huge bonus to the incredible fishing already at Burnie Lake. This 18 mile long stretch of the North Seal is a snapshot of the incredible angling quality and diversity the system is known for. Phenomenal fishing for all species, big pike, walleye, lake trout, and arctic grayling. The laker and grayling fishery is an unexplored dynamic with rumors of 90' depths, and 30 lb. lakers. The stretch of rapids at the North end of Long is said to host 20"plus grayling. Up until now, Burnie guests have been able to fish Long on daily portage trips. The only negative is the lake is so large, the potential so huge, day trips just don't afford Burnie guests a chance to truly experience all the great angling this incredible waterway offers.
Thats why we added a cabin on Long Lake so Burnie guests have the opportunity to overnight. This will allow Burnie guests to enjoy two consecutive days of angling here, a chance to really explore more of Northern Canada's finest water. The cabin has two sets of bunks, sleeping bags, radio contact with Burnie, and a small cooking area with staples, enabling comfortable overnights and two full days of angling.
Burnie Lake is a great outpost with a devoted following of anglers. With the addition of the cabin on Long Lake, it is an outpost destination tough to match!
Burnie Lake Deluxe Outpost
Deluxe Outpost – 5 star
Trip Packages
8 day trips
7 day trips
4 day trips
Burnie Lake Deluxe Outpost Detail:
• 5-star outpost w/two cabins for four guests in each cabin w/two separate bedrooms and two private baths each
• Cabins feature fully-stocked kitchen, wood stove, beds, two full baths, & couch
• BBQ grills, ice machine & coolers
• Camp manager & generator on-site, guiding and cooking available for an extra fee
• Satellite phone on site
• Portage to Long Lake w/ 16' boats, 20 hp Merc. motors, Eagle depth finders, gas on site
• Custom 16' boats w/seats, 15 hp Merc. motors and Eagle depth finders, casting deck
• Laundry facilities available
• FREE Internet service
• Taxes and fishing license not included
• Trips include transportation from Winnipeg, Manitoba