Bain Lake Deluxe Outpost sits on a major junction of the North Seal River, one of Manitoba's greatest watersheds.
Through Bain and it's connected sister lake Belsham, the North Seal connects with 5 other river systems on its way to Hudson Bay.
Guests will enjoy over 30 miles of virgin waters, most of it never having seen the lure of a fisherman. Bain was formerly a private, rarely used camp hosting no more than 15 anglers a year. Bain has produced Lake Trout up to 50 lbs, Walleye up to 8 lbs., Grayling up to 4 lbs 11 oz and Northern Pike up to 38 lbs.
Past guests often refer to Bain as the 5 year camp, meaning with all the vast amounts of water to be explored here, it would take 5 years to cover it all. For those guests who quality and variety, and a ton of water to explore…Bain Lake Deluxe Outpost!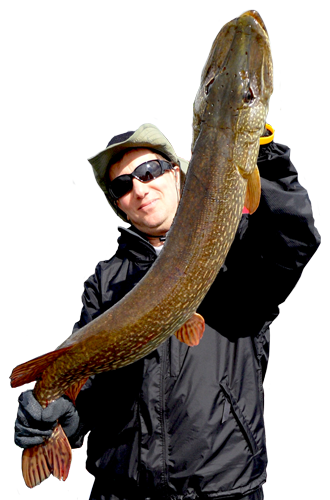 ★★★★★

Bain Lake Deluxe Outpost • 5-Star, Deluxe Outpost

ON BAIN LAKE / NORTH SEAL RIVER SYSTEM
N 58˚ 54 93 by W 99˚ 13 77

⇛ 3 deluxe cabins sleep up to 12, food included
⇛ Access to over 50 miles of lakes
⇛ Camp includes an on-site camp manager, generator, satelite phone, custom boats and ice machine

NORTHERN PIKE • LAKE TROUT • WALLEYE • GRAYLING
Trophy Species
Whether you are a die-hard northern pike hunter, lake trout fanatic or just like to sample all of the menu, we have a plan for you to take home the memories of a great fishing adventure. Our lakes are teeming with trophy fish in all of these species. While these core four are what guest rave about there is the occasional trophy whitefish or burbot. Let us know what your specific fishing desires are and we will help design a trip to accomodate them.
Deluxe outpost and perennial favorite.
Now in its seventh year of operation, Bain Lake Outpost is a perennial favorite. Though basic for a Gangler's camp, when compared to the competition, Bain rises head and shoulders above all other outposts. Guests return here for its unforgettable ambiance and mile after mile after mile of trophy water.
Located on a major junction of the North Seal River, Bain is fed by five river systems and is connected to Belsham Lake. Bain offers modern bedrooms and bathrooms, spacious living areas and a separate kitchenette. World-class waters, world-class camp.
(2) 4-man & (1) 6-man deluxe cabins
The camp consists of three newly refurbished cabins hosting up to 12 people a week. Like our other outposts, the cabins feature modern bedrooms and bathrooms, living areas, separate kitchenette, continuous electricity, custom-made Alumarine boats and satellite phone on location. Food is included like all of our other camps.
Bain portage lake
At Bain, We have opened the portage to Foord Lake, a huge body of water where the Fergus River enters Bain. That spot has long been a favorite for Bain grayling fishermen. The Fergus system pours volumes of water through it and we expect Bain guests to enjoy an incredible fishery on the Fergus system. Foord Lake is accessible via a short portage from Bain Lake.
Bain Lake Deluxe Outpost
Deluxe Outpost – 5 star
Trip Packages
8 day trips
7 day trips
4 day trips
Bain Lake Deluxe Outpost Detail:
• 5-star outpost w/three cabins for four people each Cabins w/fully-stocked kitchens, couch, beds, bath & propane heat
• BBQ grills, ice machine and coolers
• Camp manager & generator on-site, guiding and cooking available for an extra fee
• Satellite phone on site
• Custom 16 1/2' boats w/seats, 25 hp Yamaha 4-stroke motors electric start & Eagle depth finders, casting deck
• 1 portage lake with boat, motor and gas on-site
• FREE Internet service
• Laundry facilities available
• Taxes and fishing license not included
• Trips include transportation from Winnipeg, Manitoba