Canadian pro fishing expert Mike Borger has made quite a name for himself since he started canadafishingguide.net and for good reason. He "walks the talk" as they say by simply being one of the finest fishermen we have ever met –  and we have met a lot of them.
Mike had an extremely successful first trip with Gangler's last year when he visited Maria Lake Mini Lodge on opening week catching and releasing an amazing amount of trophies. No small feat since the weather was a tad on the rough side the whole week. When we got in touch again last winter, I knew exactly what I wanted him to do — to show people how AWESOME mid-summer fishing can be on the North Seal watershed and they chose to do it at Burnie Lake Outpost.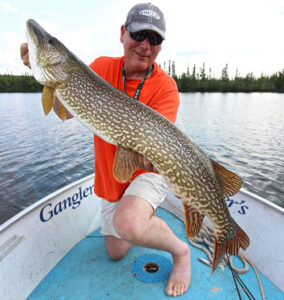 So many people are tuned into going north after ice-out and they overlook everything the mid summer and summer has to offer. What's so great about summer? Usually it's about great temps, little to no bugs, and very predictable fish patterns and great trophy fishing. Big pike hang out in both the bays and big cabbage beds. Lake trout are stacked in the holes as are big schools of walleye, plus we see consistent river levels with great bug hatches for arctic grayling. It's just a great time to be at Gangler's and if you hit it right, you will experience incredible Northern Lights too.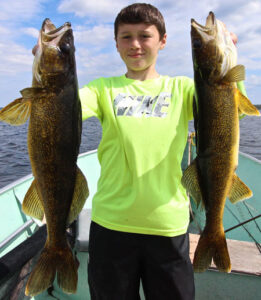 Back to Mike… with his son Brendan, a chip off the old block mind you, the two of them did exactly what we set out to do. Along with friends Greg Knapp and Blake Wroblewski they rocked Burnie Lake! The end result – AMAZING! Between Mike and Brendan they caught 40 Master Angler pike up to 45″ in one week. Add to that Greg and Blake's 10 Master Anglers and the numbers get even crazier! 50 Master Anglers for 4 people in one week! On top of that, the crew journeyed to Long Lake, the Burnie portage, where they experienced some of the finest walleye fishing they ever experienced. Another epic Gangler's trip in the books for Mike and crew. Thanks Mike. Glad you had fun and we're glad you shared your story and pics!