We are very proud of our outpost camps! My father and I recognized years ago there are fishing clientele out there who prefer their adventures unguided and do-it-yourself, in a smaller, more private setting.  For those not familiar with these trips, these are called outpost camps. Outpost camps are usually on different bodies of water than a main lodge but unfortunately, without most of the frills you get at a main lodge unavailable at these camps. We decided to break that mold. All of Gangler's outposts are on large, exclusive bodies of water, different branches of the North Seal watershed. All feature access to the Canadian Grand Slam the NSR is famous for. And all offer great amenities including an onsite camp manager.  In our 22 years, our outposts have developed a large and devoted following.  I find it really interesting how our different guest parties gravitate and move around to the different camps but eventually settle on their favorite. A large portion of these guests have been with us 10, 20, even our full 23 years at the NSR. For new guests, having to choose between our five outposts can be confusing so I thought I would just break it down to some quick overview from myself. Please bear with me!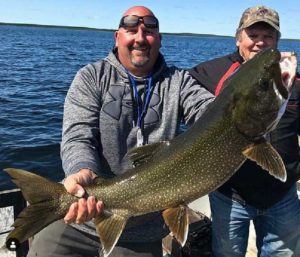 Maria Lake Mini-Lodge
Designed as a blend between a main lodge with meals provided, it is in a great setting that offers direct access to spectacular pike, lake trout, and grayling and a portage to walleye. A great fishery I fall in love with every time I visit and my wife's favorite. A small mini lodge, 4 separate cabins, and a couple onsite to ensure you are well taken care of.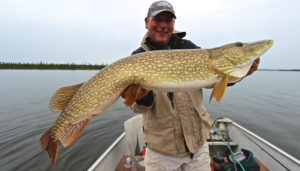 Bain Lake
Our largest outpost, the Bain Lake waterway holds what I believe to be some of the greatest potential of the NSR. Five rivers run into Bain and offer a mix of expansive shallow flats and great chunks of our deepest waters. Mike Borger salivates when he talks of Bain's potential. I feel we are still just scratching its surface as many of its qualities and patterns seem truer of a river system than a lake. The Grand Slam runs thick in its waters but if I in particular had to pick a spot where I could get a trophy walleye and a monster laker, Bain would definitely be it.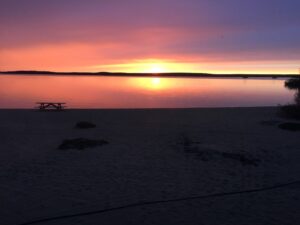 Stevens/Nicklin
I think if God could design an outpost, it would be Stevens/Nicklin. Two cabins, spread widely apart, on a spectacular sand beach which I wish I owned in Florida $$$! The three lakes in this chain offer the very best of the Canadian Grand Slam. Just a classic setting and awesome fishery.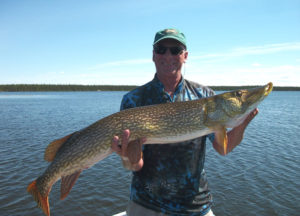 Burnie Lake
Everything about Burnie to me shouts – WILD! From the camp setting to the craggy structure of Burnie Lake itself, this is a pure pike mecca. Add in the very different setting of its portage lake, Long, and you capture all the special qualities of the North Seal.  Burnie also holds an under-the-radar lake trout fishery that uses spring holes instead of deep water as its habitat.

Clifton Lake
 Once one of our most popular fly-out lakes from the main lodge, its devoted outpost following know why! The single cabin lies in a beautiful setting overlooking Clifton. It is a great setting for the Canadian Grand Slam but in particular, probably is the finest walleye fishery in Northern Canada, with fish averaging 20-26" by the thousands. Largest marble eyes ever landed there – 34". And where tons of tasty walleye swim, big pike abound. The late Darrell Baker, a fishing legend, took over 430 fish one day in his boat.  When we first opened the lake, the In-Fishermen took an unheard of 5 hrs. of video footage there. It's definitely a slice of Canadian Northwoods perfection.