Even though Gangler's didn't have a single guest this season a few of our staff had a chance to enjoy some incredible fall fishing and spectacular Northern Lights. 
In between the repairs from last year's tough winter, the upkeep of the lodge and dwellings, plus a couple of special projects, our staff including Cassie, our Staff Manager and Kevin, our Operations Manager do get the rare chance to toss a line in. Cassie is a fishing machine and our 2021 guests are going to love her!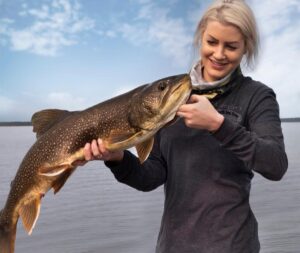 With a year of rest, our fishing will be spectacular next year and the Fall season is beckoning. We just recently started offering Fall dates and the 2019 fishing results were spectacular. We have expanded our 2021 Fall dates to include all outposts and are already 60% sold-out.  Guiding and cooking services are available on a limited basis. The crew reports the Northern Lights have been spectacular with brilliant greens, pink, and orange hues mixed in. If you are interested in an incredible Fall angling experience, give us a call or drop us a line.
All our staff are chomping at the bit and are eagerly looking forward to greeting all our guests, old and new, next year. We even have a couple of surprises up our sleeve we are sure you will enjoy. It is going to be a tremendous year and we can barely contain our excitement!