Craig Annunziata is one of our many repeat guests who help make Gangler's so special. We are fortunate to have a repeat clientele rate of close to 70% and it is guests like Craig who make this job fun! Craig has had many exceptional trips shared in 'The Current' and his group's 2019 adventure rivaled them all. His brother Russell has not fished in probably 40 years and his 2019 results would set any veteran Canadian fisherman's heart a flutter. Craig sent us a short note and photos of his July trip to Gangler's.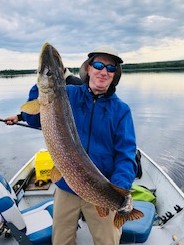 Hey Ken,
We had another epic time at Gangler's. The Ganglers' team, from the Chef to the Pilots to the Guides were phenomenal. The food was great as were the upgrades to the camp. The Lodge looked better than ever. Oh, and then there was the fishing.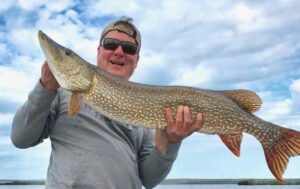 We had 14 trophies in 5 days and my brother, who hasn't fished since the 70's, had a Grand Slam rounded out with a 47 inch pike. Fortunately, I bested him with a 48 inch pike that doubled as a hog.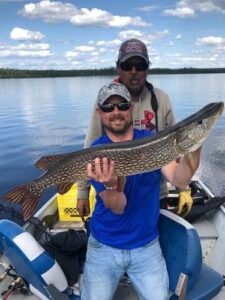 Even more unbelievably, 3 of us caught the largest pikes of our lives. This was my 14th year at Gangler's and the Ganglers' experience gets better every year. In a world that has gone bonkers, it's nice to enjoy some down time from the nonsense. In that regard, I've attached some of our fish pictures and a picture of my Group's hands down favorite hour at Gangler's, which was parking the boats near the end of our last day because we were all tired of catching fish. Really!
We caught 6 trophies that day including 2-44s, a 47 and a 48.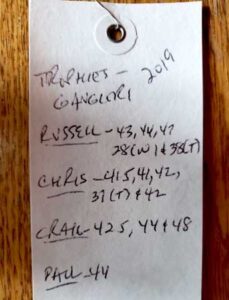 Beyond the 2 other trophies and 300 other fish we caught that day, we felt it was time to stop and enjoy some down time with our guides, who have become our friends over the years.
See you next year!
– Craig Annunziata