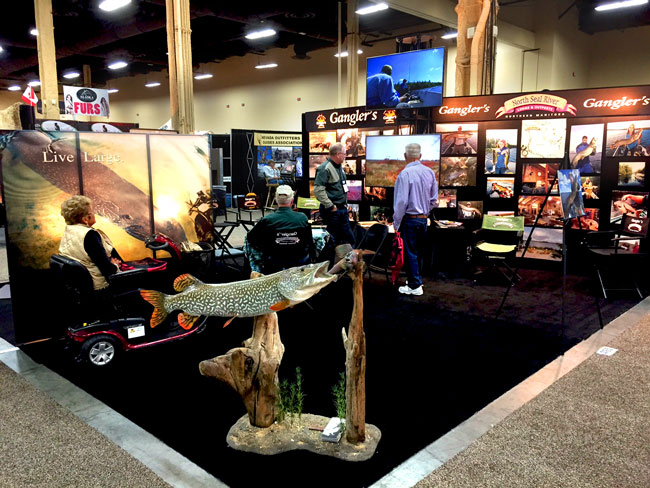 Ganglers will be exhibiting at several great sport shows in the next two weeks. Please stop by and see what's new for 2019.
SAFARI CLUB INTERNATIONAL- Jan. 9-12 An incredible display of all things Outdoors, with an emphasis on hunting and featuring several great fishing lodges too. For 2019, SCI has moved the show back from Las Vegas to its traditional home in Reno, Nevada. Ganglers will be there in booth 784 at the Reno Convention Center.
Safariclub.org/sci-annual-convention
CHICAGO ALL-CANADA SHOW- Jan. 10-13 The All-Canada Show's largest show, located at the Pheasant Run Resort in St. Charles, IL. Stop by and visit the big Kahuna, Wayne and Bain manager and guide Ken Poitras.
www.allcanada.com
VIRGINA FLY FISHING AND WINE FESTIVAL- Jan. 12-13 A great fly fishing show matched with a selection of Virginia's finest wineries, what a great concept. Located at Meadow Event Park in Doswell VA, just North of Richmond, Virginia. For more info-
Vaflyfishingfestival.com
GREEN BAY ALL-CANADA SHOW- Jan. 17-20 Home base for the AC show, a great treat for Northern Wisconsin residents at the Radisson Conference Center (Oneida Casino) in Green Bay Wisconsin.
www.allcanada.com
DALLAS SAFARI CLUB CONVENTION- Jan. 17-20 A smaller version of the SCI show but just as spectacular. Located at the Dallas Convention Center in downtown Dallas, Ganglers will be in booth 1452.
Biggame.org/convention/
2019 Reservations
2019 spaces are filling and some weeks sold out. Please give us a call or email to lock-in your desired slot for an exceptional 2019 North Seal angling experience. We still have some great trips available.