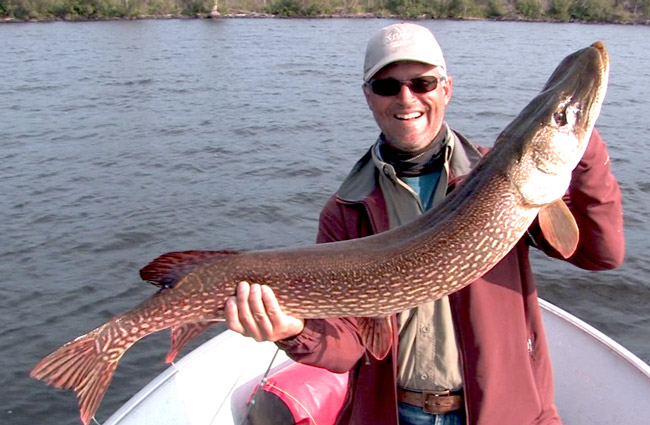 Gangler's staff biologist Dr. Brian Kotak also doubles at the head of the Manitoba Wildlife Federation. Brian took this great 45″ pike while filming TV episodes for the MWF's 2019 shows.
It is one of our favorite times of the year, when we travel to different spots around the US, attending various sport shows of all types that run January through March. It is a great opportunity for us to meet old guests and talk to new people who are interested, sharing the details of the amazing North Seal fishery. If you have the chance, please stop by and visit our booth.
This week, we will be exhibiting at the following shows-
MILWAUKEE ALL-CANADA SHOW Jan. 3-6 A Midwest favorite, the AC show returns to Brew City at an earlier time slot. The show will be held at the Milwaukee County Sports Complex in Franklin WI. The All-Canada Show is also offering again their great promotion, 'You Book It, We Buy It'.
Here is how it works-
A show guest books a trip with Ganglers while visiting their booth at the show, and qualifies to enter this promotion.
What will they win?

The AC Show will draw a one random winner from the guests that book a trip, and the All-Canada Show will pay for the trip – up to $2000 in value.
How do they get entered after booking with Ganglers?
Ganglers will be provided with a small booking slip provided by the AC Show. When the show guests books a trip they simply fill out the small form and drop into the AC slip drop box located in the back of the show at the "All-Canada Photo Booth area" (There will be signage) next to a RED drop box.
For more info, go to www.allcanadashow.com
DENVER FLY FISHING SHOW Jan. 4-6 Located at the Denver Mart in Denver, Colorado, a great show that features the best of flyfishing and destinations that cater to the same. Actually a show for both conventional and fly anglers, with attractions from around the world. Ganglers will be offering a seminar each day on 'Fly-fishing for Pike in Northern Canada' at Noon each day.
For more info, go to https://flyfishingshow.com/denver-co/
Great 2019 Promotions
Prepay Discount – For new guests choosing to reserve their trip now, you can prepay and enjoy an 7% discount at the main lodge, 6% at the outposts. This special runs until Jan. 31 so do not wait.
Strip/Strike University – An incredible opportunity to learn from two of the finest, Drew Chicone and Joe Mahler, and enjoy INCREDIBLE fly fishing during a PEAK time for shallow water pike.
FATHER/SON/DAUGHTER DISCOUNTS – Save 20% on any child 17 years and younger from July 1 thru Aug. 17 at the main lodge. (limit one child per parent or grandparent)
Wanda Taylor/TFO – Bring your better half and enjoyable a pleasure 4 or 7 day trip in August with the South's First lady of Fly-fishing. A great pairing with the Churchill Combo.
North Seal/Churchill Combo – A great opportunity to enjoy the North Seal and then venture to the historic Manitoba seaport to see Polar bears and Beluga whales. This combo is a world-class experience for couples and the family !
Great Openings – Ganglers still has several great openings, from June thru August. Don't hesitate, these will fill once we are busy at the shows. Grab your spot now !
2019 Ganglers Newsletter
If you have not received it, give us a call or email us and we would love to send you our new 2019 Fishing Newsletter.