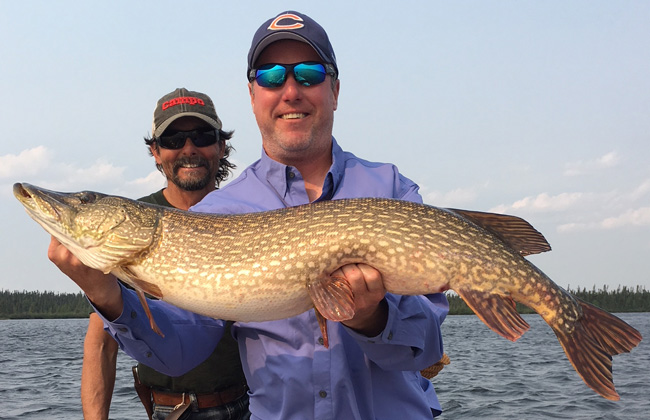 In 2018, we hosted several anglers who chose to do two trips in a row. We have never seen so many in one year, what a great way to enjoy Ganglers ! Some chose to combine a lodge trip with an outpost visit but Brian Croix and his brother chose to combine outpost trips to Maria and Stevens in August. They had an exceptional experience. Here's Brian's note to us –
Hey Ken,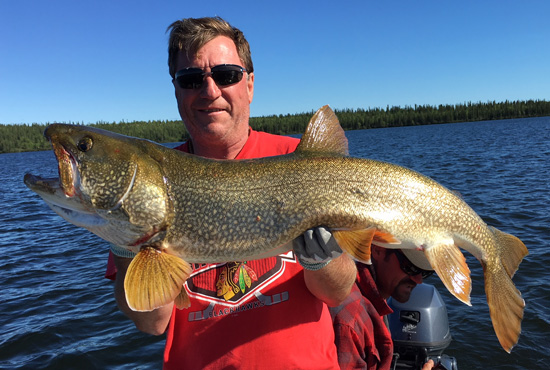 I just wanted to reach out and thank you again for a great trip. As you know, we started our trip with a stay at Maria with Dave and Robbie. They were fantastic in every way. Dave was fantastic as a camp manager, guide and host. Robbie is an excellent cook and made sure we had plenty to eat at all times. Together they make an excellent team, you are lucky to have them as part of your team. Our first day in camp the wind was up and we stayed pretty close to camp. At dinner Dave asked how we did. When I told him we got between 50-75 pike I could tell he was skeptical.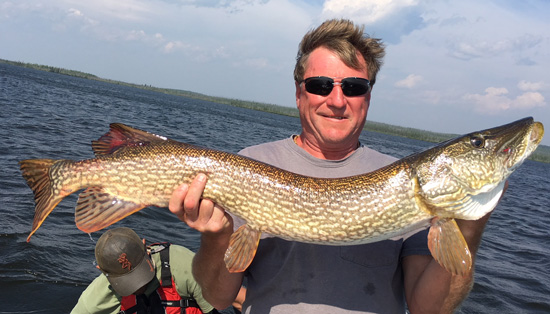 The next day we hired him to guide us. Dave took us to Rodger Jones's trout hole and he shared the story of how some of Rodger's ashes were spread there by his son. Dave jokingly asked Rodger for a little help down there. No kidding, within the next minute one of our trolling rods went off. Rodger did not disappoint. My brother Bill landed the largest trout of the season on Maria, a 40″ trophy. When the pike fishing kicked off, Dave was no longer skeptical of the numbers of fish we caught. On Tuesday night we fished all day and had caught many fish. Dave found us near camp and asked if we wanted to finish our night in a special way. Of course! He told us that Paul and Tim, two other guests, had checked the inlet to see if the "false spawn" had returned as the trout were in there two weeks prior. Paul and Tim had caught 225 lakers that day.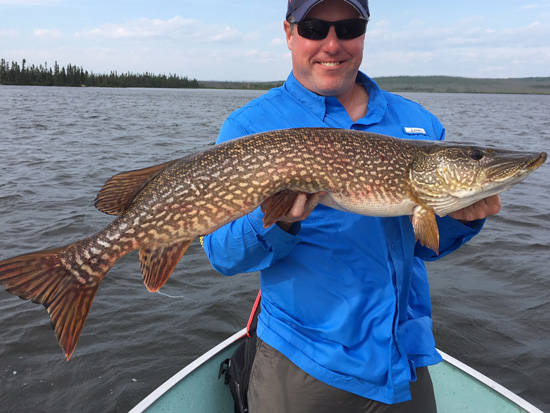 We could not get there fast enough! My brother and I got 75 in a little under two hours. The next day everyone in camp pounded the trout for half a day. Every boat had fish on simultaneously numerous times. Robbie joined the fun and out fished Dave! I don't know how many we all caught but I know it was hundreds, including several master angler trout by us, Paul and Tim. We were literally sore from catching so many hard fighting trout. Our week also included a trip to the portage on Carron Lake. The wind was brutal but the pike fishing was red hot. We caught many big pike along with a handful of master angler fish. The mini lodge set up at Maria is great and offers guests the luxury of getting fed like kings while sharing stories and laughs.
Our second week was spent at Stevens with our cousins Larry and Steve. We knew we were in good hands when Ralph the camp manager met us at the dock. Ralph was the camp manager at Burnie when we visited in 2006. Ralph and Rita were our hosts and are awesome. We experienced some great fishing at Stevens also. One day we got about 90 lake trout jigging in deep water. The pike habitat is outstanding with many cabbage beds throughout the system and we caught several master anglers there also. Ralph and Tin Tin made us shore lunch every day and it was outstanding. Rita is an outstanding cook and even made us chocolate chip cookies from scratch! Stevens is the most scenic outpost we have fished so far.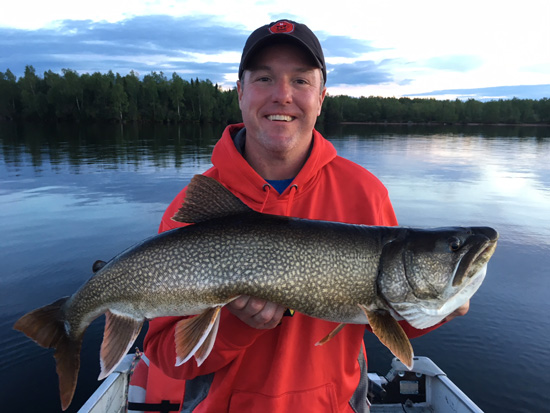 Grand total the two of us ended up with 13 Master angler fish for the two weeks. We even saw the Northern Lights on Maria our first week. The trip was everything we hoped for and more. The staff and the float plane pilots at the main lodge were awesome too. Lastly, thank you Ken. The logistics of what you provide and where you provide it are second to none. We will be returning as soon as we can.
– Brian Croix.
Holiday Savings –
Great Trips, Great Specials
What's under your tree this Xmas? Looking for a special present for your loved ones? Now is a great time to surprise your loved ones with an experience of a lifetime, one they will always cherish. We have so many incredible specials going on right now, it is a great time to choose your trip to Ganglers –
Prepay Discount – For new guests choosing to reserve their trip now, you can prepay and enjoy an 8% discount at the main lodge, 7% at the outposts. This special runs until Dec. 31 so do not wait.
Strip/Strike University – An incredible opportunity to learn from two of the finest, Drew Chicone and Joe Mahler, and enjoy INCREDIBLE fly fishing during a PEAK time. We predict this will become a perennial Ganglers favorite.
Father/Son/Daughter DISCOUNTS – Save 25% on any child 17 years and younger from July 1 thru Aug. 17. Good for Grandfathers too!
Wanda Taylor/TFO – Bring your better half and enjoyable a pleasure 4 or 7 day trip with the South's First lady of Fly-fishing. A great time to have fun and learn the long rod too. This trip can be combined with the Churchill Combo.
North Seal/Churchill Combo – A great opportunity to enjoy the North Seal and then venture to the historic Manitoba seaport to see Polar bears and Beluga whales. Gentlemen, this is the trip where you can have it all ! Fish, the ladies can join you as they please and when they don't, they can enjoy the many other sights of the North Seal. Then finish it together with an awesome trip to see Bears and Belugas in a unique setting. This combo is a world-class experience!
Great Openings – You can still grab some great spots before we gear up for the sport shows after Jan. 1. The main lodge and outposts have several great openings, from June thru August. Don't hesitate, these will fill once we are at the shows.