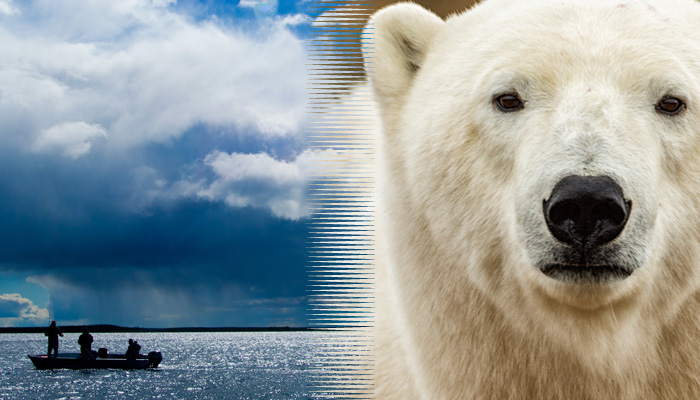 Ganglers has created a World-Class Adventure which will rank for many as one of the greatest experiences they have ever taken.
Take an incredible 4 day fishing experience in a huge, pristine watershed. Combine that with a visit to a unique Arctic ecosystem known where travelers come from around the world to see. If this combination doesn't make your bucket list, nothing will !
At Ganglers, we combine an incredible 4 day angling experience at Ganglers with an added bonus, a trip to Churchill, Manitoba to see the summertime migration of the Beluga whales (50,000+) into the harbor along with the local Polar bears. An amazing experience. Take a boat tour, kayak, even snorkel with the whales. You'll smile with bewilderment when the polar bear curfew sirens go off each night. 'This is definitely not Kansas, Dorothy !'
This trip starts as low as $ 7037 US for a 7 day package to both, from Winnipeg. It is an absolutely amazing trip for couples and families.
We offer two options for the Churchill experience-
Great Canadian Travel:
GCT lets you choose between a 3 or 4 day trip to Churchill. Working with GCT and Ganglers, you can create a package that perfectly matches your desires and schedule.
Lazy Bear Lodge-
This iconic Churchill lodge may remind many of Ganglers, with its beautiful log construction and great meals.
Both have options built in for amazing experiences.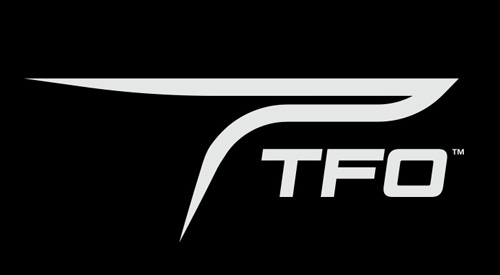 Frank and Eugenia King, owners of Temple Fork Outfitters, the amazing rod company Ganglers has worked with for years, brought their family to Gangler's on the North Seal/Churchill combo in late July. They had a great time, with several trophy pike taken and then capped off by a wonderful visit to Churchill.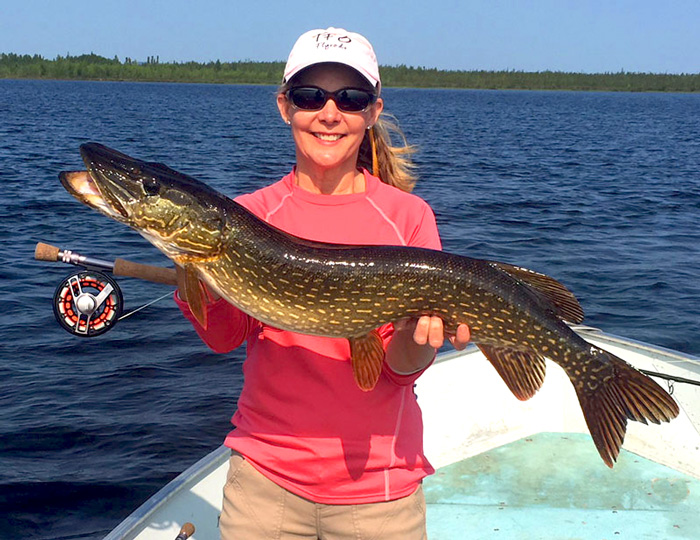 "I can't imagine coming this far North and not taking advantage of the opportunity to explore the uniquely austere town of Churchill, full of wildlife and the most charming people.
The Churchill portion was vastly different from days of fishing and completed the family vacation with unparalleled memories. "
    Eugenia King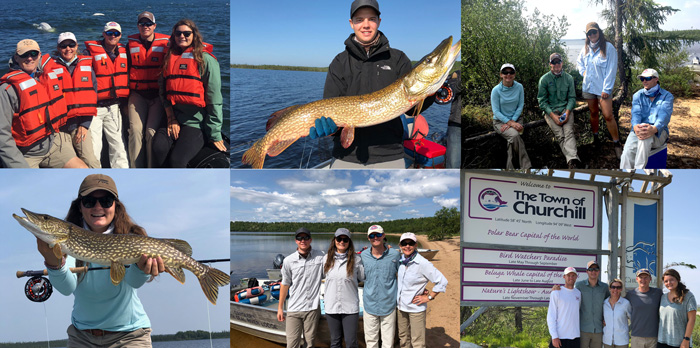 For more info on this amazing trip, please go to –
https://ganglers.com/churchill-super-combo/
Space is limited to 8 per session, so please call us to set aside your spot. July 16-24, 24-Aug. 1, Aug. 1-9, 9-17.
2019 Churchill Combo/ Wanda Taylor/ TFO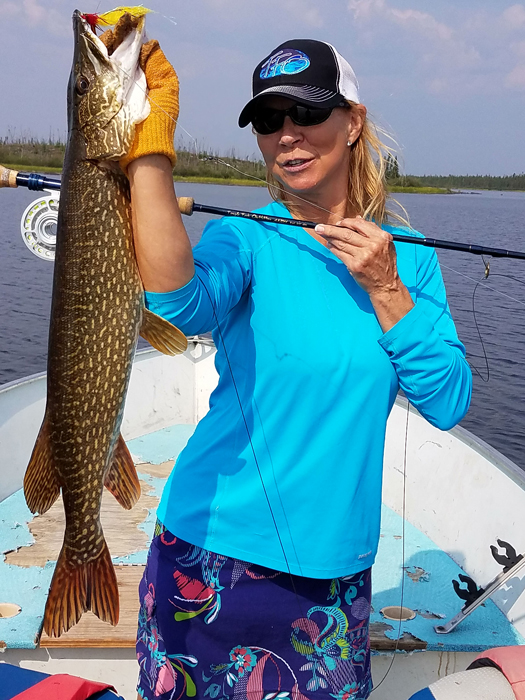 We are pleased to announce Wanda Taylor, 'The South's First Lady of Flyfishing' will be at Ganglers Aug. 1-9, 2019. Wanda will be on hand to assist all with her expert fly casting instruction and gracious manner. Wanda last visited Ganglers in July 17 and all of our guests really enjoyed her presence and assistance at the lodge. This is a great time for all, especially ladies, looking to enjoy and learn our fishery. Wanda is also an Advisory staff member for TFO rods and we will be hosting some special promotions and prizes for TFO that week. This trip can be taken as a 4 or 7 day experience. It's also ideal for those who wish to experience the North Seal/Churchill Combo. Wanda experienced the Combo in 2017 and raved about her experience so much, it turned into an article for Dun magazine.
2019 Reservations
2019 spots are steadily filling. Please give us a call and we will be glad to discuss which best fits your desired 2019 wish list or check our website for availability.