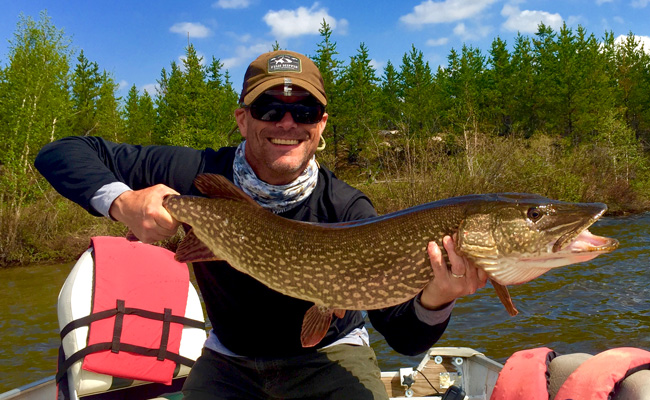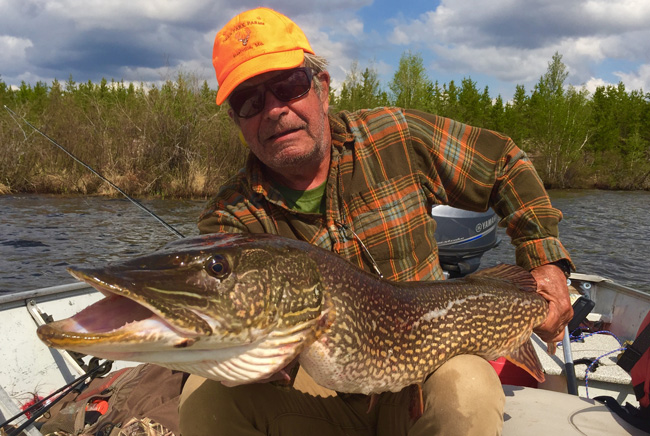 Stewart Rauch is a fly fishing aficionado. Dedicated to the long rod, he and friend Matt Handy have made a June trip to Maria Lake a staple in their annual fishing calendar. This note and photos was received from Stewart from their 2018 pilgrimage , who brought his father Tom along with Matt and friend Tom Jeon. Great photos, we can't wait to see Matt's !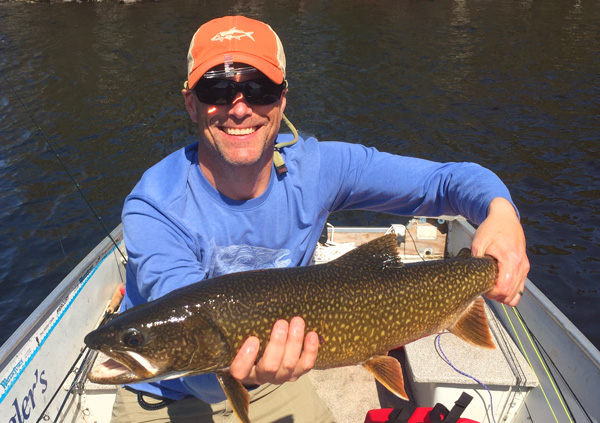 Ken,
I have been meaning to send some pics for a while, but my days seem to keep getting away from me. I hope the season has been great. All the fish pictured in this email and subsequent emails were caught on flies.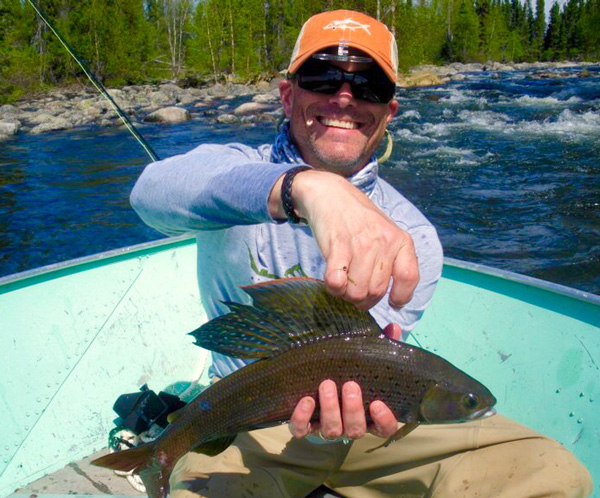 The pike pictured were between 37.5″ and 42″. The lakers were between 27″ and 32″ and caught in 3′ – 10′ of water. We caught the grayling on dries and nymphs, and a couple pictured were just over 18″. And the white fish pictured was 23″. We actually caught 4 or 5 white fish this trip. Another great trip in the books !
 T. Stewart Rauch

June Fly-fishing For shallow water anglers, June fishing is tops. Seeing big pike in water so shallow their backs are literally poking out can make the most jaded anglers shake at the knees. Lined up like a bunch of submarines in dry dock, they are soaking up heat, ready to crush anything that comes their way. For a fly angler, it is a combo of bonefishing with the quarry more resembling the ferocity and cunning of a barracuda. We still have some great 2019 time slots available for those anglers- conventional and fly- who want to chase their quarry in the skinniest of waters. Give us a call, they won't last long !
Main Lodge:
4 day June 7-11 (8 slots); June 7-11 (4 slots), June 20-24 (8 slots)
5 day trip
June 15-20 (4 slots) , 24-29(8 slots)
7 day trip June 8-15 (8 slots); June 15-22 (8 slots);
June 22-29 (4 slots)
Bain Lake:
7 day trip June 8-15 (4-8 slots) Party of 2 welcome
Clifton Lake:
7 day trip June 22-29 (4-6 slots)
Santa May Be Coming Early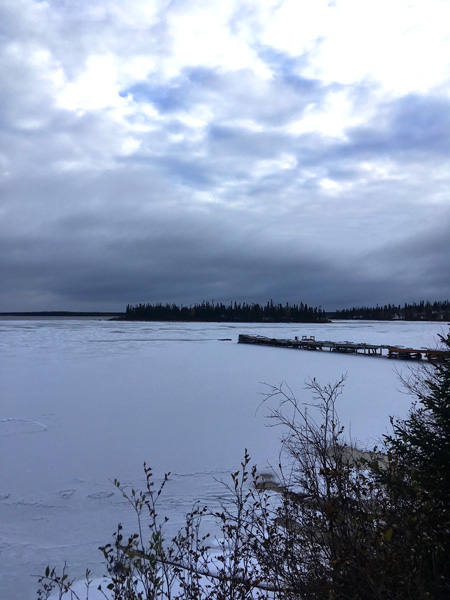 Obviously there is a lot of discussion on Global warming and climate change. All we know is we just experienced the coldest Fall we have ever seen in 22 years. Lots of snow flurries, icing conditions and lakes starting to freeze over. The front bay of the lodge actually froze out to the islands on Sept. 22. It eventually thawed but this photo is from Sept . 30. Dillabough Lake behind the lodge has been frozen for over a week. Based on the forecasted temps, we don't see this ice going anywhere until next May. Head Guide Raymond and super guide Snoop Dogg have opted to stay behind and begin their winter trapping a month early.