(Paul and Melissa Carnes have fished with Ganglers the last two years at Maria Lake. They truly enjoy Ganglers and this year opted for two weeks in July, one at the main lodge and then back to Maria. Paul sent us a boatload of photos along with a nice story. Enjoy !)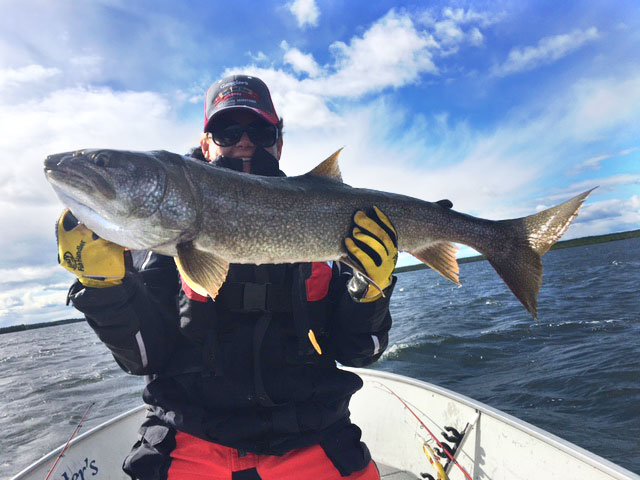 Hi Ken,
Thanks again for another great fishing trip this year. As you know Melissa and I started this year's trip with a week's stay at the main lodge. It was our first stay on Egenolf so we decided to try several of the fly out lakes while we were there. While we caught many nice fish on several lakes during the week but I wanted to highlight Melissa's Master Angler barrage on A Lake.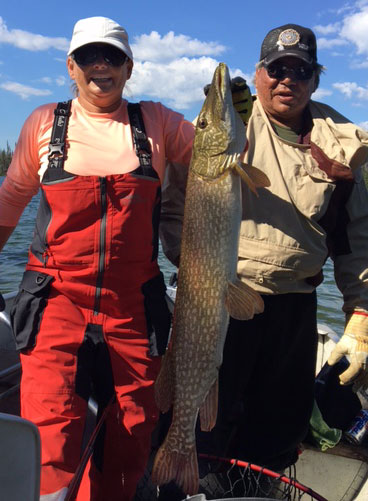 We flew from the main lodge to A on the morning of July 6. Our guide, Nap, took us to Frustration Bay early that morning. As predicted by Nap we spotted many pike in the 40″ plus class in the clear,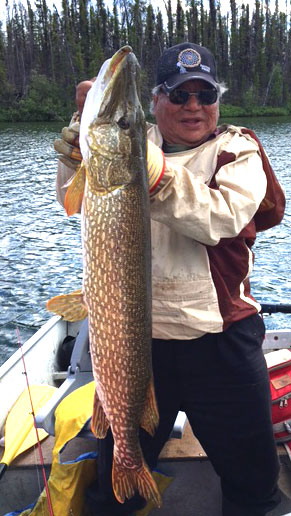 shallow bay but we were not able to get any of them interested in our spoons, spinners and crank baits. After an hour or so of casting with no results Melissa broke out one of the Savage 3-D pike lures that she had purchased at the tackle shop in the lodge. That lure drove the pike into a striking frenzy. A couple hours later she had landed a boat load of big pike including two 44″s, a 42″ and a 41″. We also caught two 45″s, a 40″ and numerous fish between 35″ and 39″. All were caught on the Savage 3-D pike lures. It was the best pike action I have seen in 30 years of fishing in Manitoba and Ontario.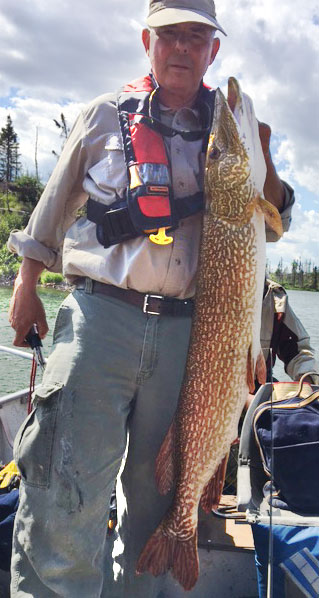 Thinking that we had already experienced the highlight of our trip we flew to the Maria Lake mini-lodge the next day for a week's stay there. We have had fished Maria twice previously and had caught many nice pike and lake trout. This year we were on Maria the second week of July and the lakers were just starting to congregate in their holes in water from 40 to 60 feet deep. The first day out while trolling a red eye spoon in 60 feet of water Melissa landed a 37″ lake trout. The next day she landed 36″ laker. The day after a 43″ pike in 55 feet of water. She also had a big laker snap a graphite rod in half at the boat. Who knows the size of that one but I am guessing 45″ plus.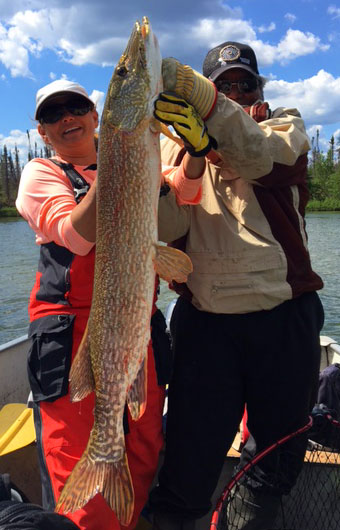 Melissa's master angler count for the week was 7 (5 pike and 2 lake trout). Total master anglers for the two week trip between the two of us was 10 (7 pike and 3 lake trout).
I also wanted to call out the excellent service we received from our guide Nap, all the folks at the main lodge and special thanks to Dave, Robbie and Sam at Maria who were gracious hosts and excellent cooks!
Can't wait for next year's trip.
Paul and Melissa Carnes
Chesapeake, VA
2019 Reservations Updates and OpeningsLooks like the 2019 season is going to be a busy one ! We suggest you contact us asap to ensure your 2019 dates. We still have some June and early July dates at the main lodge on the 7,5, and 4 day trips. Bain has June 15-22 for 2-6 and Burnie June 22-29 for 4-6. Many of these spots are rarely available so here is your chance to grab a coveted early season spot.
Global Rescue Included 2019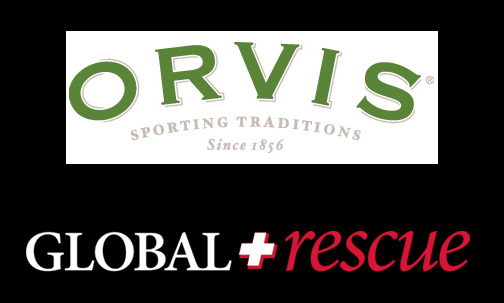 Gangler's is Manitoba's ONLY Orvis endorsed lodge. Orvis endorsed lodges have access to special considerations for the acclaimed Global Rescue Medical Evacuation Insurance packages . We believe in it so strongly we will be including it in ALL Gangler's fishing packages for 2019. One more reason why Gangler's is YOUR #1 Canadian outfitter for your 5 star angling adventure.