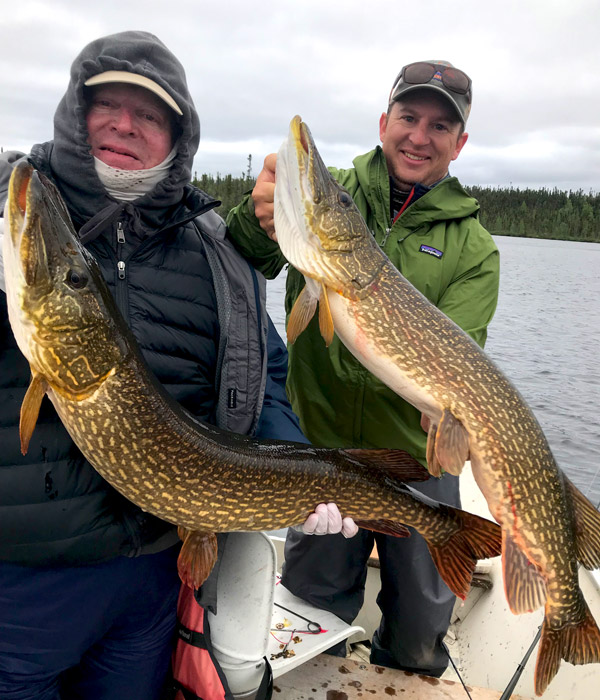 Father & Son Slam Them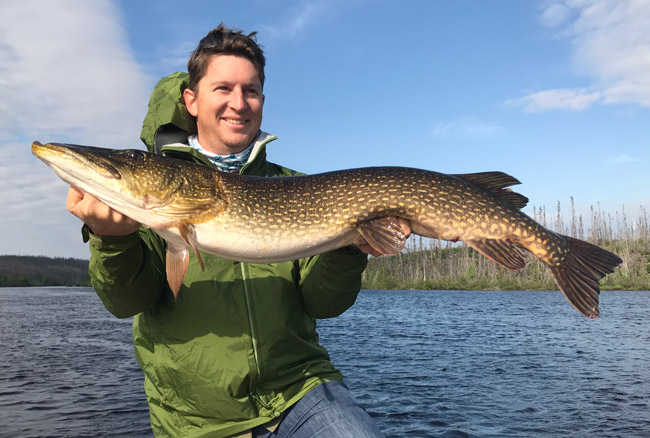 Father and son team Dick and Justin Krieg returned to Gangler's North Seal River Lodge this past June. The weather was the full range, from tropical to stormy Northern Canada. The gents fished hard through all and enjoyed another great trip. They shared a couple of photos of the many great fish they caught. Dick and Justin, great seeing you again, thank you !
2018 Notes
For the second year in a row, we opened to high water from significant snowfall. The difference between this year and last is the precipitation kept up and water levels have continued to hover at high levels. It is only in the last week we have seen a significant drop. We will take high over low every time but it certainly keeps the guides and guests working as big pike love to access the flooded shorelines. Fishing has been tremendous and our other species have been excellent as well with an especially high number of trophy class walleye in the 22-30″ range. 100-200+ fish days per boat were the norm. The North Seal River area- the Canadian Grand Slam at its finest !
It's Not Too Late To Book For 2018!
Special Pricing on Select Dates.
We still have some limited availability for 2018 , there is no better time to take advantage of these great specials than NOW.
NORTH SEAL RIVER LODGE SPECIALS
7 day trips
Regularly   $ 5595    Now  $ 4795
July 28-Aug. 4 (2-6), Aug. 4-11
(2-8), Aug. 11-18 (2-8)
4 day trips
Regularly   $ 4995    Now  $ 3995
Aug. 1-5  ( 2-8), 5-9 (2-6) and
9-13 (2-4)
OUTPOST SPECIALS
MARIA LAKE
7 day trips
Regularly   $ 3695    Now  $ 2695
July 28- Aug. 4, Aug. 4- 11 (2-4)
(Shorter Trips Available)
Call Now to Book!
Prices are based on ppdo. License and taxes extra. See website for trip details.
2019 Reservations Updates and Openings
2019 Reservations are coming in strong. Contact us asap to ensure your 2019 dates. We still have some June dates at the main lodge on the 7,5, and 4 day trips. Stevens has openings for 4 June 22-29 and 29-July 6. Bain has June 15-22 for 2-6 and Burnie June 22-29 for 4-6. Many of these spots are rarely available so here is your chance to grab a coveted June outpost spot.
Global Rescue Included 2019
Gangler's is Manitoba's ONLY Orvis endorsed lodge. Orvis endorsed lodges have access to special considerations for the acclaimed Global Rescue Medical Evacuation Insurance packages . We believe in it so strongly we will be including it in ALL Gangler's fishing packages for 2019. One more reason why Gangler's is YOUR #1 Canadian outfitter for your 5-star angling adventure.