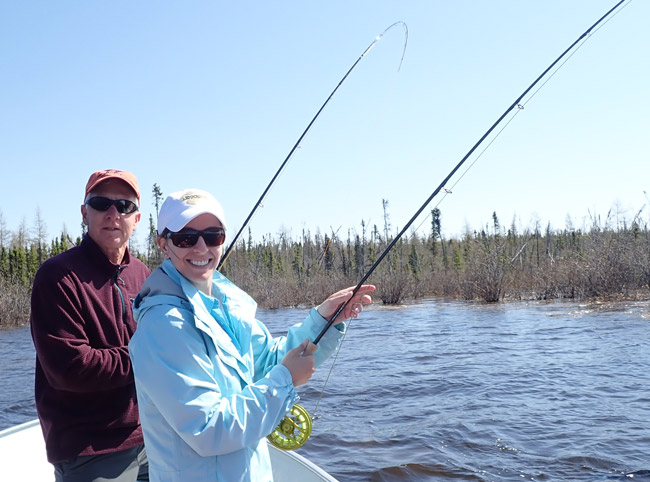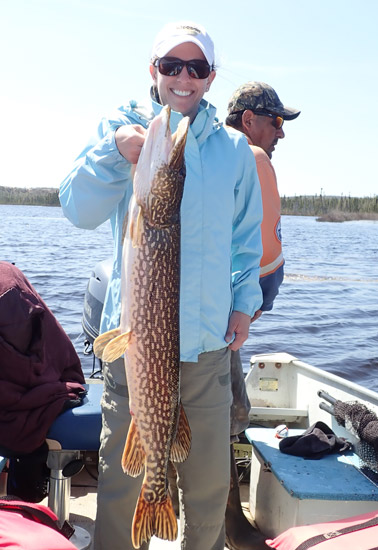 The 2018 season is off to an excellent start. Water levels are perfect, ice has gone out at the perfect time, and all species are shallow, shallow, shallow ! We enjoyed some great guests the first week. This included a number of fly-fishermen in pursuit of the pike at their shallowest. Two of those were Mark Mellencamp and his daughter Caitlin Winder. Led by the guiding skills of Big Alex, they landed an incredible number of pike, including several trophies, all while fishing the main lodge lake, Egenolf. Here are some photos of the two of them along a neat shot of them with a double on. Fishing was good at Egenolf we had trouble getting people to try flyouts with only 4 taken the first week. We had several other highlights including 47″ pike at both Bain and Burnie which we will be glad to share at a later date.
It's Not Too Late To Book For 2018!
Special Pricing on Select Dates.
We still have some limited availability for 2018 , there is no better time to take advantage of these great specials than NOW.
NORTH SEAL RIVER LODGE SPECIALS
7 day trips
Regularly $ 5595
July 28 – Aug. 4    Now  $ 4795
(4 openings)
Aug. 4 – 11           Now  $ 4495
(6 openings)
Aug. 11 – 18        Now  $ 4495
(6 openings)
4 day trips
Regularly $ 4995
July 16 – 20      Now $ 4295
(4 openings)
July 20 – 24     Now $ 4295
(4 openings)
Aug. 1 – 5       Now  $ 3995
(8 openings)
Aug. 9 – 13     Now  $ 3995
(8 openings)
OUTPOST SPECIALS
MARIA LAKE
7 day trips
Regularly $ 3695   Now $ 2695
July 28- Aug. 4, Aug. 4- 11 (2-4)
(Shorter Trips Available)
STEVENS/NICKLIN
7 day trip
Regularly   $ 3595
Aug. 11-18     Now $ 2895
Call Now to Book!
Prices are based on ppdo. License and taxes extra. See website for trip details.
Experience Late Season Master Angler Action From a Professional!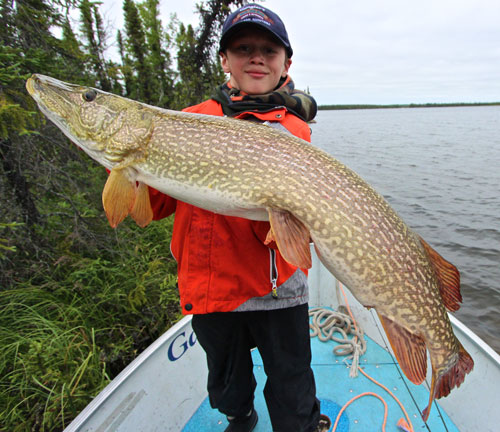 Take advantage of some late season special pricing and learn how the pros fish this season. Read about Mike Borger (Professional Canadian Fishing Guide) and son's action packed week and how to fish for late season Trophy Pike. CALL soon to reserve your spot at one of the hottest trophy fishing destinations in Canada.
Read more >
2019 Reservations
We are receiving a lot of 2019 reservations at this time. It is never too early to reserve your desired 2019 dates !