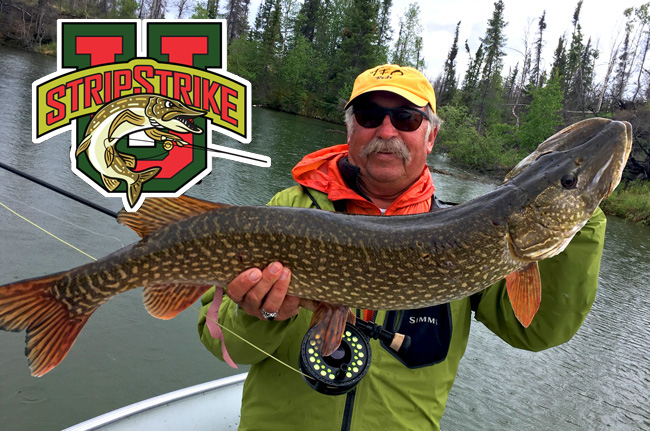 Gangler's Featured in 'Fly Tier' Magazine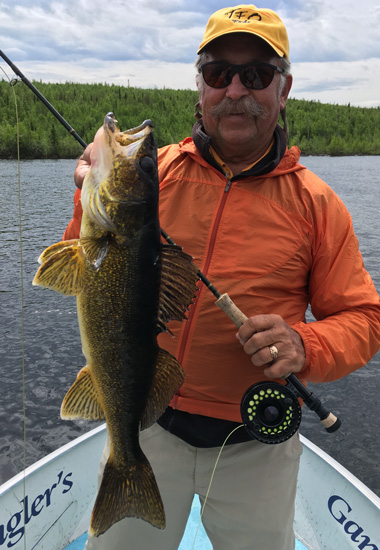 Last spring, we had the pleasure of hosting Chuck Furimsky, one of the originators of the Fly Fishing Show. Chuck's company has several popular sport shows sprinkled across the country and specializing in fly fishing. Chuck had really wanted to fish Gangler's for several years based on the many excited reviews he was getting from his friends in the industry. Once he received a story assignment for Fly Tier magazine, he was on board. Chuck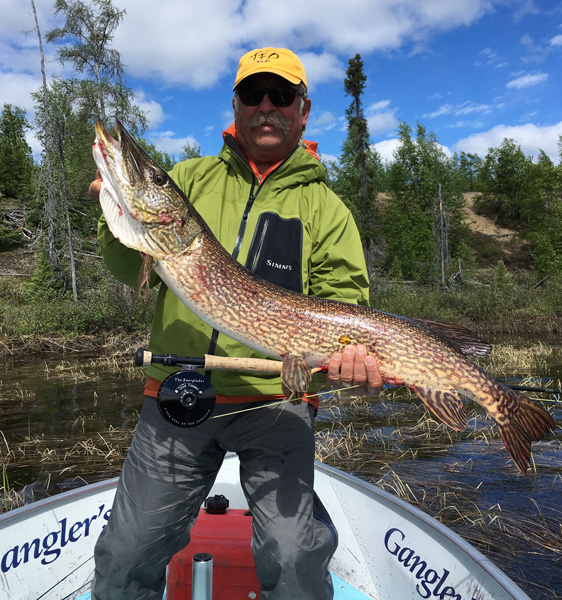 enjoyed an incredible 5 day trip, landing over 200 fish on a fly rod including several of the monsters in the these photos.
'My first visit to Gangler's Lodge in Manitoba was everything I had dreamed about and more. The lodge was spacious with a great bar and pool table. Food was so creative I thought I was dining at a five-star restaurant. And the best of all was the fishing. I fly fished, but my buddy spin fished. At the end of the week we both agreed our pike count was about 200 each, plus plenty of walleye, and a few lake trout. Can't wait to return.'

Chuck Furimsky
Chuck's article, 'Pike on the Fly', is now available in the Spring 2018 issue of Fly Tier, on newsstands now.
Texas Fly-fishing and Beer Festival
Fly-fishing and micro brewery beer, a combination as natural as ham and swiss! The Texas Fly-fishing and Beer Festival is now in in its second year and quickly becoming a favorite. Gangler's will be exhibiting at the show this weekend, March 10 and 11, at the Plano Center in Plano, Texas, just North of Dallas. The show features a great collection of everything fly fishing plus a great selection of Texas micro breweries. TFO's Wanda Taylor and Ed Jaworowski will be on hand for casting demonstrations and seminars.
Go to http://txflyfishingfestival.org/ for more info.
2018 RESERVATIONS
We still have some great spots for 2018 fishing, give us a call now to check them out-
Main Lodge- June 8-12, 16-23, 16-21 plus assorted spots in July and August
BOB CLOUSER SPECIAL WEEK July 7-10 (4 days fishing, SPECIAL PRICING)
Maria Lake mini-lodge- July 14-21, 21-28, 28-Aug. 4, Aug. 4-11
Stevens/Nicklin- Aug. 11-18, 18-25

Clifton- July 21-28
Bain and Burnie- June 30-July 7, other assorted July/Aug. spots
For available dates at all of our great destinations, feel free to give us a call or drop us an email at [email protected] .