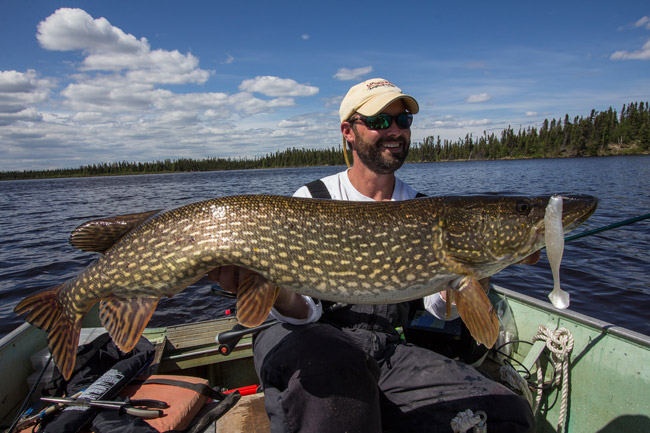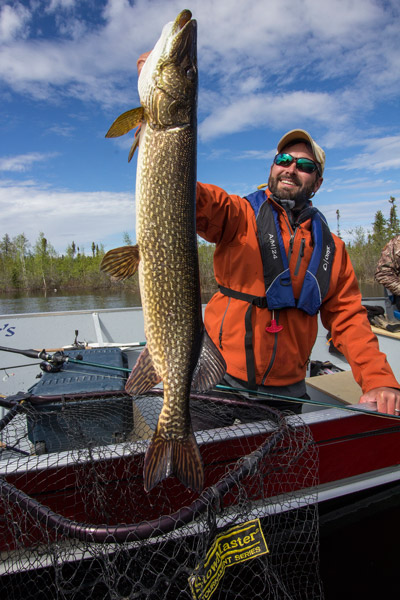 It has been many moons since our good friends Al, Ron, and Jimmy Lindner have fished and filmed with us. We were delighted when they chose again to send the next generation of their crew up to us to film a pike extravaganza in June 2017. LA crew members Jeremy Smith and Mike Hehner were on a mission to capture the North Seal Grand Slam. In a scenario we have seen all too often, once they got a taste of the dynamite fishing for Esox lucius at Gangler's they could think of nothing else, they had pike fever and had it bad !!! The result was possibly the best big pike show they felt they had ever filmed in LA's 15 years of existence. We enjoyed a quick Q & A with Jeremy as he reflected on their trip-
Q – What were your thoughts of the North Seal watershed this being your first trip?
Jeremy – The North Seal is vast, many places you fish in the far north receive a ton of pressure, because habitat is limited. But here your options are endless and you can fish places that fish have not even seen a lure that season! Gangler's does a great job of spreading out the fishing pressure. The options for Lakers, Walleye and Grayling are great to have, but the pike fishing can be so good it's hard to describe.
Q – Any comments on the quality and makeup of the pike fishery?
Jeremy – What was most impressive to us was the average size of the pike we encountered. We had two days of pike fishing, where we just quit counting the number of fish over 40 inches, the numbers of mid-30 to 40 inch fish was unreal. On top of it, the fish were so willing to bite we had a fish over 42 inches, bite on a figure 8, get hooked, jump off, then do the same thing again, then the third time it bit, we landed it! It was unbelievable!! Also, the options to fish where there was no fishing pressure are incredible. Options here are endless!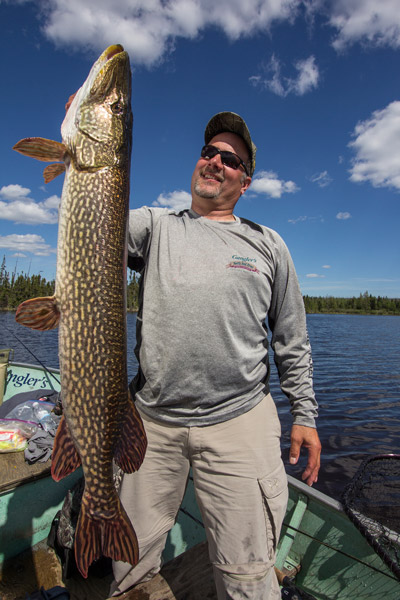 Q – What were your favorite rods / reels / rigging / lures?
Jeremy – Bass Flippin' gear is perfect for the pike fishery here. Here are two rods/reels we used for pike: A good 7'4″ Heavy Power, Fast Action with Daiwa Tatula Type HD Size 200 in 7.3:1 with 50 Pound Sufix Performance Braid Another outfit is a 7'11" Heavy Power, Moderate Fast Action with Daiwa Lexa HD Size 300 in 8.1:1 with 65 Pound Sufix Performance Braid We like 30-50 Pound Single Strand Titanium as a leader
Q – What was your favorite technique on the trip?
Jeremy – The best presentation for pike we've found in shallow bays is a weightless plastic. It really doesn't matter what it is as long as it can suspend in the water like a fly. We used a 5/0, 6/0 or 7/0 VMC Heavy Duty Swimbait Hook based on the size of the plastic, it's better to use a bigger hook than a smaller one, when in doubt. For plastics it really doesn't matter but something 5-6″ long seems to work best. We brought up a 100 pack of Big Bite 5″ Shads in White and burned through most of them. They are durable and easy for you and the pike to see. Other good plastics for us were big tubes, grubs and 6″ soft stick baits. The technique is either cast to fish you see or blind cast and twitch the bait a few inches and let the bait sit.
Q – What was your favorite structure on your trip?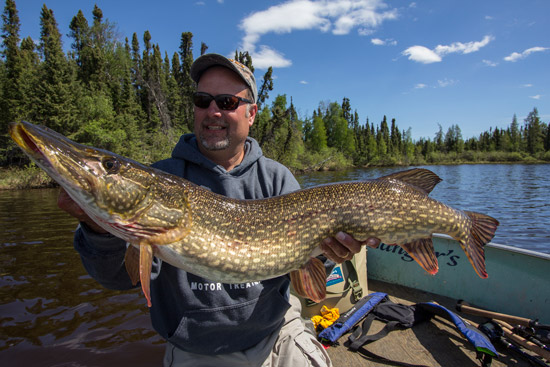 Jeremy – For us, in mid-June, the best spots were dark bottom bays and current areas, with the bays being the best. The weeds were just starting to develop, but most of the big pike we caught were in four feet of water or less. It was an incredible visual experience. Their show has now aired on many networks but you can still catch it, by going to this link on the Angling Edge website- AnglingEdge.com
ENJOY !
2018 RESERVATIONS
2018 reservations are filling but there are still several great slots available.
For the June fishermen, June 8-12 (8), 16-21 (4), 16-23 (2) and 25-30 (4) are some dynamite spots still available. We also have some open slots extending into July and August including our North Seal/Churchill Combos. Burnie and Bain both have one cabin for 2-4 available June 30 – July 7. Maria and Stevens have limited openings. For available dates at all of our great destinations, feel free to give us a call or drop us an email at