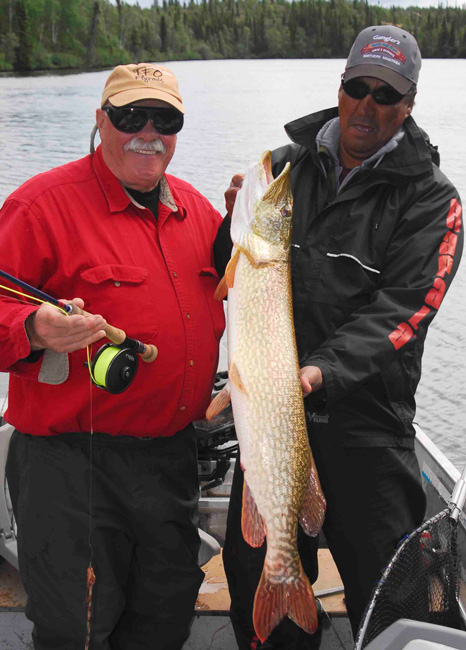 Fly-fishing Legends Week has become a popular treat every year we have been fortunate to host it. Legendary names Lefty Kreh, Flip Pallot, Dan Blanton, Ed Jawrowski, Nick Curcione have all taken part. A great week, fishing the exclusive waters of one of the world's top fisheries in a classic lodge, sharing the know-how with true masters of the sport in a casual setting. These trips are a great way to learn those little special tricks of the trade with informal discussions and demonstrations at the lodge. One prominent name to grace North Seal River Lodge has been one of our favorite people, Bob Clouser. Inventor of the classic Clouser Minnow, expert guide and creator of several other innovations, Bob's down-to-earth demeanor coupled with his inquisitive fishing mind make him a pleasure to be around. We still have some great 4 day trips available July 7-11 during Bob's week , prime time for pike on a fly. Bob is a TFO National Advisory Member with his own specially –designed line of TFO rods. We will have them at the lodge for you to try, where Bob will explain his specific designs and how they will help you become a more effective fly caster. Space is limited so please call now to reserve your slot.
Fly Rods and Tackle Program
North Seal River Lodge features an array of the finest fly rods and reels by TFO and Orvis for you to use while at the lodge. Ever go to a fly shop and cast different rods, checking their 'feel'? Here you can actually enjoy that on the actual waters, CATCHING fish, big fish ! Our 2018 collection also features Bob's custom creations for TFO. For those who finish conventional tackle, we offer TFO in spinning and baitcasting. All complimentary, of course.
New Shorter Trips at Bain, Bain/Burnie Combo

Some people just can't get away for a week. Our shorter trips at the main lodge have steadily grown in popularity and now we bring the same to two of our popular outposts for our outpost fishermen. Beginning in 2018, you can choose between four day trips at Bain or Burnie or even combine them into an exquisite 8 day combo. Four days of power fishing on the legendary, unique North Seal River system.
New Shorter Trips at Bain, Bain/Burnie Combo
2018 spots are steadily filling. Please give us a call and we will be glad to discuss which best fits your desired 2018 wish list or check our website for availability.
Save
Save
Save
Save