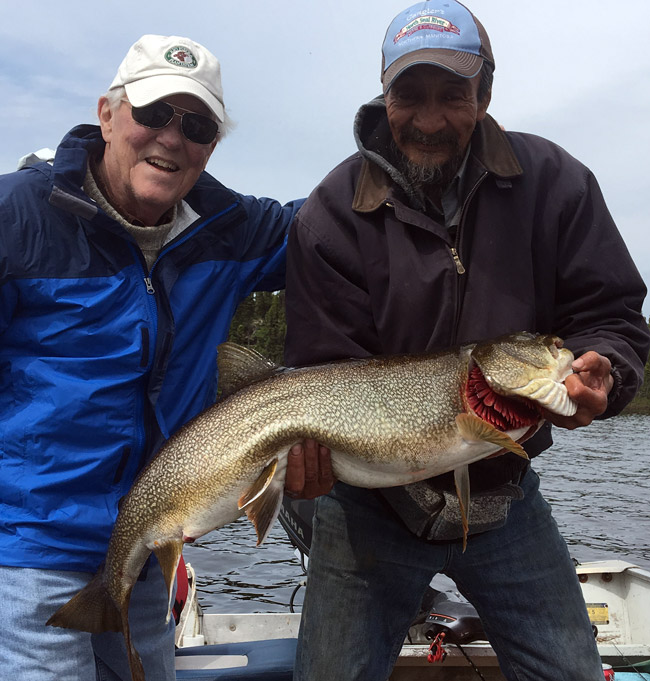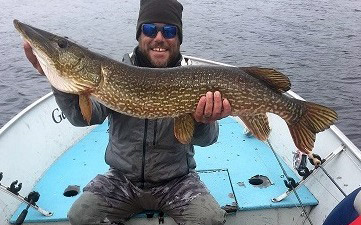 North Seal River Lodge boasts Northern Canada's most amazing fishery. With a vast, complex watershed of over 100 lakes and 12 river systems, the variety and choices of over 30 lakes seem almost endless. A fishermen could fish with us for several years and never fish the same lake twice. One lake they will probably fish more than once is our main lake, Egenolf. A great fishery in itself, it is often overlooked for the more exotic remote fly-ins. Egenolf has been awesome this year, producing many large pike, lake trout up to 40″, and Master Angler arctic grayling and walleye. In late July and August, it is not uncommon to watch our boats from the main lodge as they sit within view of the lodge, fishing the tremendous weed beds right out in front. A glance to our right is the channel from our Back River. Just two weeks ago, one boat took walleye 25″, 26″,27″ and 28″ in one night. We love it when anglers explore as much water as possible but it is not necessary. Guest Andrew Johnson and his father Sidney fished with us and Super Guide 'Snoop Dog' McCallum this spring. They took several Master Angler fish, most on the main lake and Andrew was exclusively flyfishing. Andrew flyfished through cold and windy conditions and 'Snoop' ensured Sid and Andrew had an awesome trip.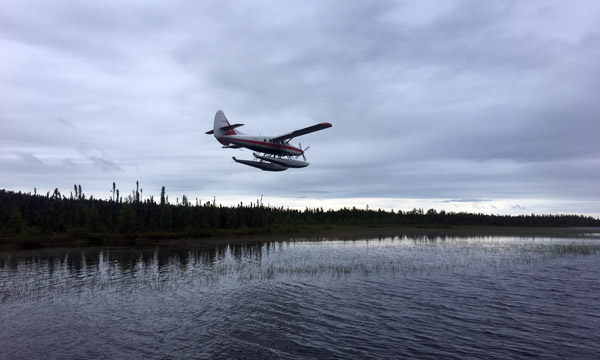 Hi Ken-
Sorry for the delay in getting a few pics out, back to the real world takes a bit of getting used to.
I cannot say thanks enough for the great trip you and your staff provided Dad and I at the end of June. The staff and guides were professional while being friendly and attentive to ensuring everything was going to plan. I was unsure how Dad would fair physically, but with the outstanding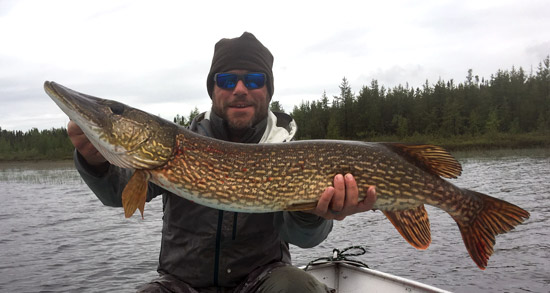 fishing available on the main lake and nearby portage lakes, it was a non-issue. Flyouts are always an exciting experience with the float plane and "untouched waters", but here are a few pics of fish we caught on the main lake, do not think anyone would have a complaint about them.
Thank you again for the outstanding trip, everything went smoothly from Winnipeg and back. I know you and the staff put in a great deal of behind the scenes work to ensure all this, it shows in the quality of the operation and it is greatly appreciated.
Have a great summer season, hopefully see you again soon.
Andrew Johnson
2018 Reservations
2018 is shaping up as a very busy one based on reservations up to this point. If you wish to fish with us in 2018, please give us a call or check the website to see what is still available.
New Eco Adventures
We have been busy developing our Eco adventures at the lodge and our fishermen have really been enjoying them too. Utilizing our new double bench seat Polaris Ranger, we have developed both North and South esker rides on the Egenolf esker behind the main lodge. We have found many interesting nature attractions along these esker trails and ALL of our guests – grizzled hardcore fishermen, ladies, and children – have really enjoyed it. The bear observation area has also been a big success. For those who like to be more active, our kayaking and mountain bikes have been very popular. We also have just sent our first guests over to Churchill for the Super Combo and judging from their posts, having an amazing time.
Our fishing is phenomenal, some of the best in the world , but it is only a portion of what makes this area so unique. We really enjoy sharing ALL of it with you and look forward to helping you discover all this region has to offer!
Save
Save