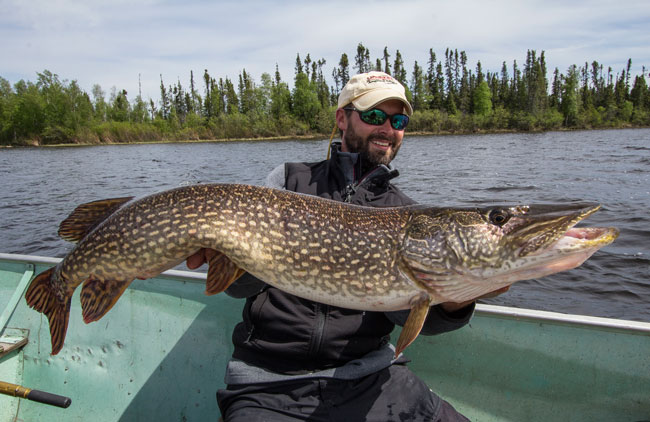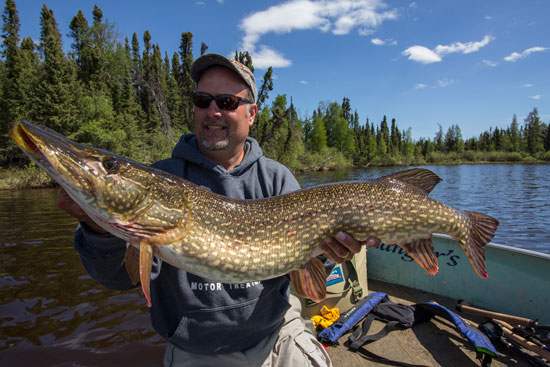 That is certainly a strong statement to be made by any film crew. It's even stronger when made by members of Lindner's Angling Edge, led by angling legends Al, Ron, and Jimmy Lindner. These people have seen almost everything there is to be seen. Lindner's last trip with Ganglers was almost 20 years ago when they were still members of the In-Fishermen, the bedrock fishing machine they created, a linchpin of the fishing world. They have since moved on and assembled another cast of top angling talents who continue their work. This was the first visit of the Lindner TV crew to Ganglers and we are sure it won't be the last.

LAE crew members were Jeremy Smith, Mike Hehner, and Rich Eckholm. Jeremy and Mike had never fished with us before, Rich has been with the Lindners for years and did a couple of the old In-Fish shoots with us when the Lindners were still aboard.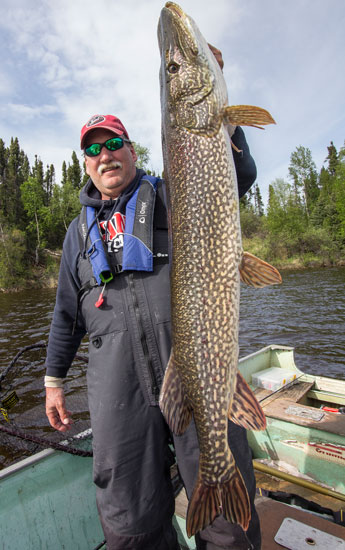 Their first day, a great warmup on Egenolf with some nice fish. The second day, they flew to one of our flyout lakes, a strong pike lake. The look on their faces when they returned said it all. To keep a semblance of continuity (for shooting purposes) and after some pleading looks, we sent them back to the same spot the next day. They returned even more blown away. Size of fish, numbers of quality fish, the constant action and aggressiveness, all they could say was,"WOW!" After reviewing the footage, all three felt it had the makings to be the best Pike show the Lindners have ever produced in their 15 years with Angling Edge. The final count in 2 days ? Over 40 fish 40″-44″. The trip focus was supposed to be on the Grand Slam but after getting a taste of our outstanding pike fishing, well, what can we say ?

Here is a short comment from the guys –
Ken,
Just wanted to say thanks again—we really appreciate you giving us the opportunity to film up at your place—I feel we got 2 really great shows out of the trip. You have a wonderful place with great people, and run it like a machine—I have a much greater appreciation of what it takes to run a place like that in the middle of the bush after spending a week up there. We will keep in touch and let you know the show airing schedules, etc. as they become set. If you need anything from us, please feel free to give a shout. Al and Jimmy had smiles on their faces after we gave them the update—they both said to say hi, by the way.
Thanks again and take care,
Mike, Rich, and Jeremy
2017 Reservations
Are you still itching for that 2017 trip ? We can still squeeze you in. We still have some select dates open –
North Seal River Lodge

7 days July 22-29 (2-4), July 29-Aug. 5 (2), Aug. 5-12 (2-6)
5 days July 29-Aug. 3 (2-8)
4 days July 25-29 (Aug. 15-19 (2-4)
Maria Lake
July 22-29 (2-4), Aug. 5-12 (2-6)
Stevens/Nicklin Lake
Aug. 12-19
Clifton Lake
Aug. 12-19
If you need to satisfy your fishing addiction, what better way than some of these last minute openings ?
2018 Reservations
If you are planning a 2018 adventure with us, give us a call or email as 2018 spots are filling up. Ganglers guests have enjoyed an awesome 2017 season and we are already pumped up about 2018.