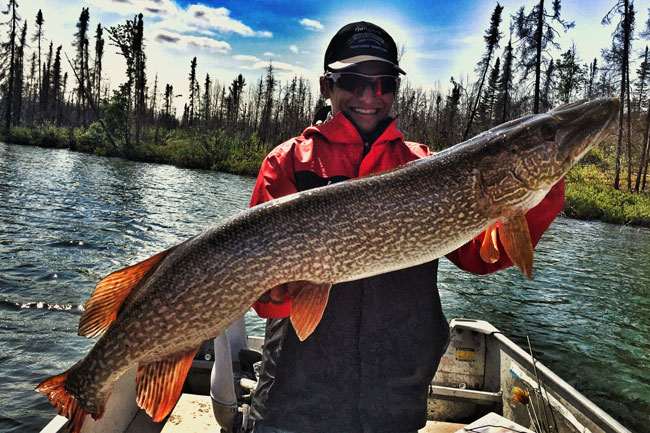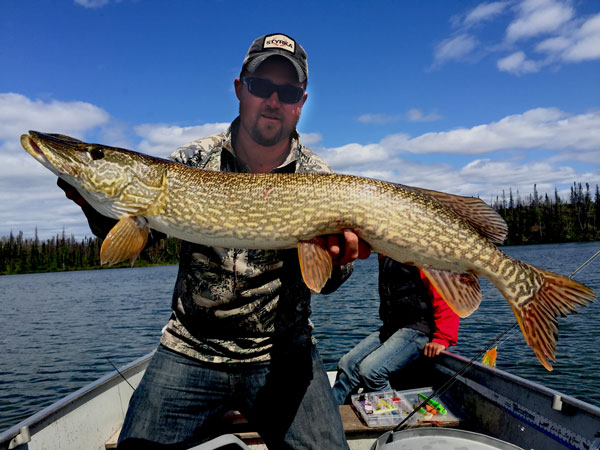 Mike Pelletier from Hardcore Pursuits and his friend Shane were killing some time towards the end of a successful film shoot at Ganglers. With some free time to spare, we had our young guide in training, our son Michael take them to one of our flyout lakes for the day. It is one of several pike factories we have boats on and its big pike and crystal clear water makes for some great filming opportunities. Once again, the results would make for a lifetime memory for any fisherman or fisherwoman. The pictures only tell part of the tale, this video ROCKS and will have you CRAVING for more big pike action.

Check out the video at this link and ENJOY ! Watch VIdeo >
2017- Another Great Season Approaches
The first crew is headed on their way up and will be flying into the lodge as you read this. Our guides are eager with anticipation and the lake ice is turning black. Things seem to be falling into place for a perfectly timed ice out- not too early, not too late. Ganglers once again has great things planned for 2017 and we know our guests will be delighted ! If you have not scheduled your 2017 trip, don't despair, we still have scattered openings in 2017 and will find you a spot.
2018 Reservations
Reservations for 2018 are coming in quickly, contact us now to ensure your slots for 2018. Great things planned, including our renowned Fly-Fishing Legends Week with the return of fly-fishing legend Bob Clouser June 30-July 7 at the main lodge and July 7-14 at Bain Lake. Bob cut his teeth on river fishing and his main lodge and outpost stay will be an ideal brain-storming session for fly fishing aficionados. Opportunities like this are rare !