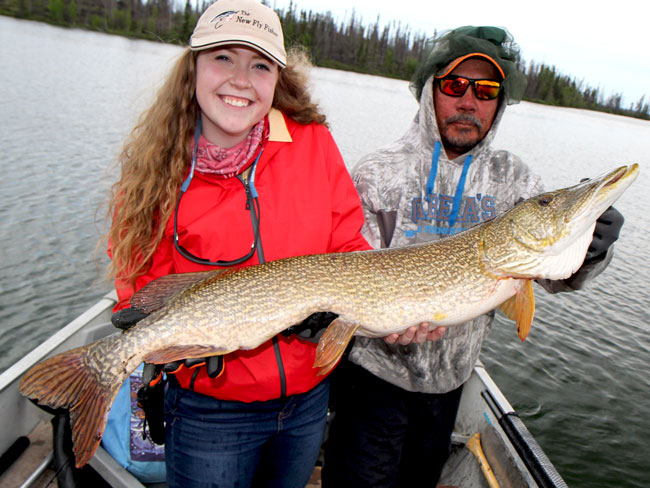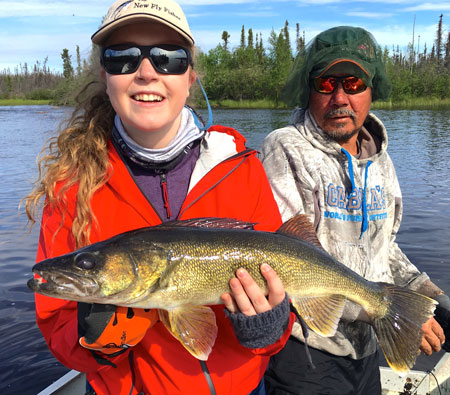 Superlative ! Whether you are new to Ganglers or a vet, you will enjoy this show. We just finished previewing the first show of the 2016 New Fly Fisher shoot at Ganglers and it is as every bit as good as promised.
The award-winning New Fly Fisher is renowned for their amazing video work and the classic pieces they host. So far we have been 'teased' by the snippets they have released on YouTube, featuring marauding pike and a number of amazing slo-mo surface 'destructions' of flies and poppers. This is so much more. The show centers on host Colin McKneown and his quest to take his daughter Jenna on a truly remote trip, to experience some rare and amazing flyfishing. Both father and daughter got theirs eyes opened as guide George Merasty made sure the North Seal lived up to its legendary reputation.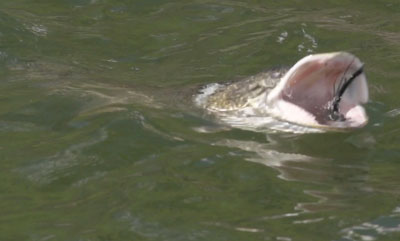 The drone footage is superb.
Things were really rocking and when Colin came to dinner one night wearing
a T-shirt of a certain legendary Canadian band, the chemistry made sense.
Any friend of Geddy, Alex, and Neil is a friend of mine !
They captured so much great footage Colin has created two shows. The first segment debuts this Friday, May 5 at 8 PM and 11 PM Eastern on the World Fishing Network. Make sure you check it out- it is a treat for the eyes !
Five Great Last-Minute Specials
We just had five great last-minute openings where you could enjoy great savings !
Incredible North Seal River Lodge now has room for 2 June 13-17 (4 days), for 2 June 17-22 (5 days), and for 2-4 July 1-8 (7 days). Bain Lake has 2-4 open June 24-July 1. And Burnie Lake now has a cabin for 2-6 July 1-8. Here is your chance to take advantage of a rare opportunity. Give us a call or email and we will explain more.

2018 TC Raffle
The winner of the 2017 Trinity Catholic High School raffle featuring two four day trips to Gangler's North Seal River Lodge was John Brescia of Ocala, FL. 19 year-old John received his ticket as a gift from his mother and what a surprise. We would like to thank all who supported the raffle, it raised over $ 16,000, 100% will benefit TC programs.
2017 and 2018 Reservations
We are still receiving 2017 reservations and now accepting 2018. You still have time to lock-in a great trip for 2017 or ensure your 2018 dates.