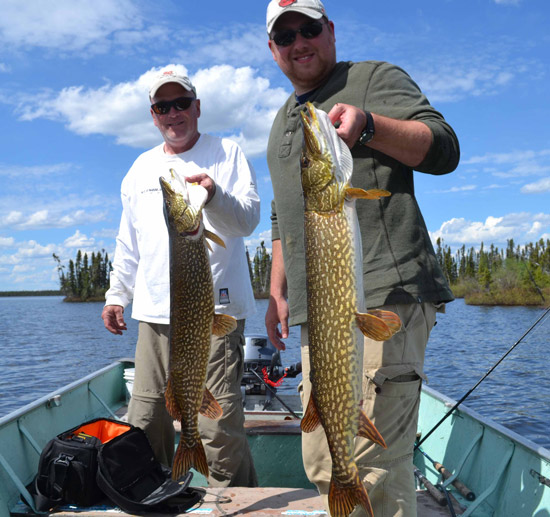 Guest Ron Nandor is a veteran of decades of Canadian fishing trips including 10+ years to Ganglers outposts. He sent us this short note with a few photos to share . . .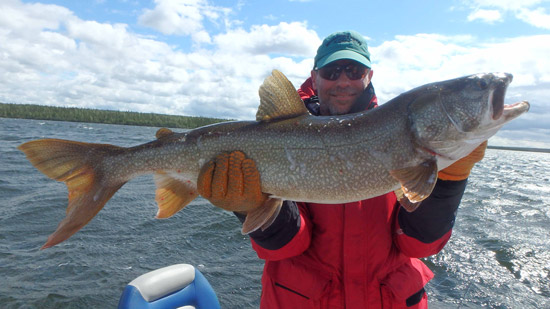 Ken,
Just a note to thank you for a fantastic trip to Maria Lake!
You know our family has been keeping a log of our fishing trips for a couple generations, and we set several family records during the week.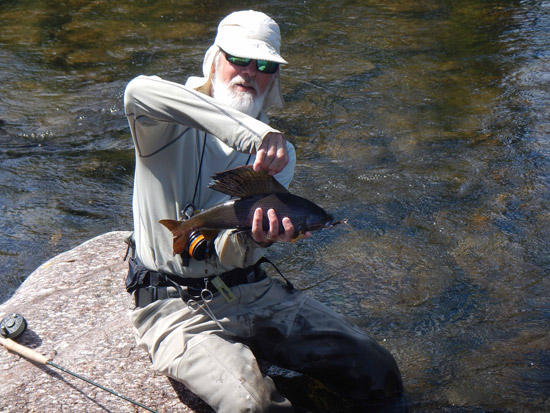 We caught nearly 2200 fish for the 6 of us for the week, which is something considering we were limited the last day due to weather. We caught Master Angler pike, lake trout, and grayling . . . there's no walleye on Maria, but we had two guys explore Tseeteli Lake for pike and surprisingly found walleye there, so we ate good that night.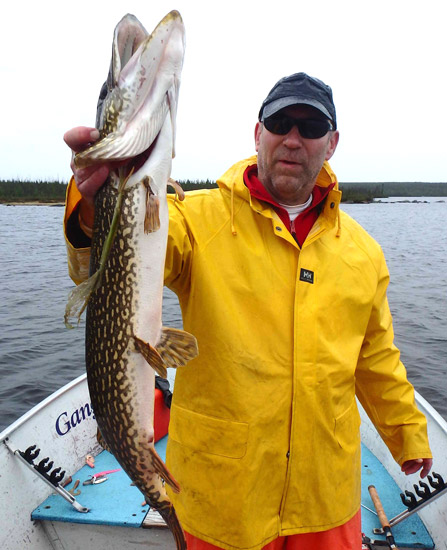 Three of us went to the Caron Lake portage early in the week. We caught over 250 fish, but the impressive thing was the size . . . the average size had to be 34″, with numerous trophies (see the picture of me and my son Mark with our double trophies). The fish were simply fat, strong, and hungry.
We probably caught 15 trophies for the week. Fantastic week of fishing all around. The pike were everywhere, I don't think we fished a spot twice all week.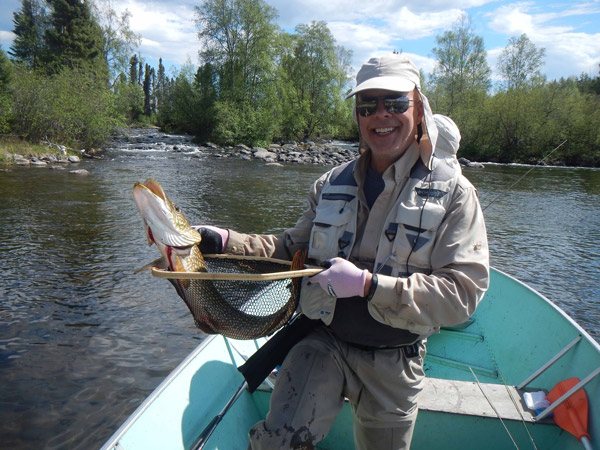 The pike fishing was so good, we didn't fish for lake trout that much, but still managed to catch some monsters. We had an avid fly fisherman on this trip who taught us a few things about fishing for grayling . . . they cleaned up the day they went on the portage on the outflow of Maria.
Can't wait until next year!!
Ron
Maria Lake has the following openings- July 8-15 (2-4); July 22-29 (2-8): Aug. 5-12 (2-8)
A Few Great 2017 Opening
Many 2017 spaces are full but here are a sampling of the June/July spots still available. Lock up your 2017 fishing trip now !
North Seal River Lodge- June 17-22 (4 spots); July 1-8 (8 spots); July 25-29 (2-10)
Bain Lake – June 3-10 (2-4); June 24-July 1 (2-4); July 1-8 (2-4)
Ganglers at NEW Dallas Fly-fishing Festival
Ganglers will be exhibiting at the new Dallas Fly-fishing Festival at the Plano Center in Plano Texas March 11 and 12. The event was conceived by Beau Beasley, a Virginia guide who has run a similar event very successfully in Virginia for 17 years. The event is tailored to everyone from beginners to experts. Everything from tackle companies to the experts will be onhand. Ganglers owner Ken Gangler will be doing seminars on fly fishing for pike. Lefty Kreh, Bob Clouser, Ed Jaworowski and a host of others will be onhand to share casting lessons, fly-tying, and other tips. Best of all, Beau has paired up the festival with many of the area's finest microbreweries who will be onhand to share their craft and products. What a fun concept ! Flyfishing and custom crafted beer- who would have thought of it ? For more on this unique event, check out www.txflyfishingfestival.org
Wisconsin SCI Banquet March 10-11
Ganglers and CSAH with Bain Lake manager Ken Poitras will be exhibiting at the Wisconsin SCI chapter's annual banquet and convention at the Grand Geneva Resort in Lake Geneva Wisconsin March 10 and 11. Ganglers has been a member and supporter of this great club, one of SCI's largest fund raisers, since 1996, over 20 years ! It is a great event and daytime activities are open to the public. For more info go to- http://sciwi.org/2017-grand-banquet/ .
Save
Save
Save
Save