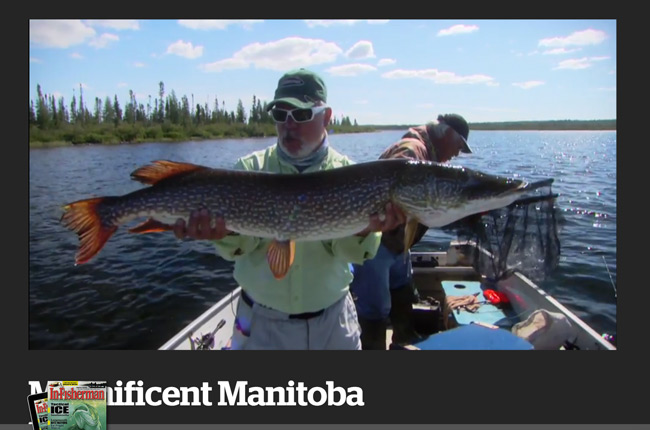 When we received word that Doug Stange and the In-Fisherman was looking for a Manitoba destination to film the Canadian Grand Slam, the choice was obvious- Ganglers.
The relationship between Ganglers and IN-Fish goes back over 25 years as they enjoyed terrific filming sessions at all three of our lodges. They were the first we invited to the North Seal when we first opened it and they were blown away by the tremendous fishery and options the North Seal presented. They left that trip with over 8 hrs. of filming footage, an amount that was unheard of.
Hard to believe, but almost 20 years have passed from those first In-Fish trips. Some of the faces have changed for both but Ganglers and the In-Fish continue to represent the best in their fields.
Our 2016 In-Fish host was George Large. A veteran of the field, George is a consummate pro and a great angler (a status quo for the In-Fish staff). George nailed the Slam on pike with a 46″ and grayling with a 21″. He just missed on lakers with a 33″ and walleye with a 26″. He caught and released hundreds of fish. One neat story had George fishing a laker hole, in search of the big Kahuna. The action had slowed and after losing one of his largest jigs, he switched to a smaller one. He immediately nailed laker after laker, almost 100 at the one pot. Obviously the lakers were feeding on smaller baitfish (ciscos ?) and once he 'matched the hatch', things went crazy.
It is that unstoppable curiosity, and combination of research and teaching, which has always made the In-Fisherman special and continues to this day.
The In-Fisherman segment, 'Manitoba Grand Slam', will be on the Sportsmans Channel Monday at 11:30 am, Wednesday 4 am and 11:30 am, Thursday at 3 PM, and Saturday at 4:30 am. All times are EST.
Ganglers at Safari Club Convention
Ganglers will be exhibiting at the 45th annual Safari Club Convention Feb. 1-4 at the Mandalay Bay Convention Center in Las Vegas. We will be in booth 2256, please stop by and see Ganglers reps Stan Good, Dave Lower, and Ken Poitras. They will be glad to discuss our new adventures for 2017, including our North Seal/Churchill Super Combo.
Atlanta Fly Fishing Show
Ganglers is excited to be exhibiting at a new fly fishing show in Atlanta this Friday and Saturday, Feb. 3-4. Chuck and Barry Furimsky have been running the top flyfishing shows across the country for over 30 years and Atlanta is going to love what they are bringing ! Located in the Infinite Energy Center (formerly the Gwinnett Center) in Duluth, Georgia, it features top speakers including the legend himself, our dear friend Mr. Lefty Kreh.